Virtual Program Prepares Youth for Real-World Success
This summer, The Youth Transition Program experienced a new challenge, helping our youth learn to be independent while also helping them stay healthy during the pandemic. Adapting the Program to operate safely required extraordinary creativity, as we rethought the Program's entire structure and delivery. As a result, we redesigned the Youth Transition Program to function remotely for Summer 2020 in only a few weeks' time.
As you may remember, The Lighthouse's Youth Transition Program helps adolescents (ages 15-24) who are blind or visually impaired gain key life skills. The Program's facets, Summer in the City, First Jobs, and Saturday Seminars, each focus on the things our students need to know to be successful in different aspects of their lives.
In July, over the course of a week, Summer in the City students explored a range of remote activities designed to help them increase their independence and confidence using Zoom, video chats, and individual activities. Art supplies, cooking ingredients, and other materials were mailed to them prior to the start of the Program. The students even took virtual tours of Chicago neighborhoods using a combination of digital technology and 3-D printed tactile maps. We cannot thank Reader's Digest Partners for Sight Foundation enough for its support, which helped make this possible.
"This whole experience this week has brought a lot of light, laughter and fun to the week–much needed with how hard things have been lately."
–from a Summer in the City participant's mother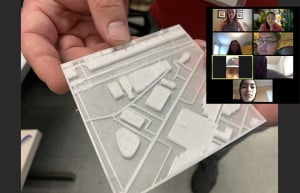 Participants of our First Jobs: Photography for All Program take a virtual tour of a Chicago neighborhood using a 3D printed map during a remote session.
The six-week-long First Jobs is also taking place virtually. The new format has brought surprising benefits to the Program. For instance, our students have been able to connect with Apple software engineers specializing in accessibility, financial experts, and even Amy Eshleman, Chicago's First Lady. The new format has also made the Program more accessible to youth who are medically fragile as well as students who live too far from The Lighthouse to physically attend sessions. In addition to being exhibited for the public, our students' photographic art and videos will be featured in City of Chicago marketing and PSAs.
We are now also planning to hold this fall's Youth Transition activities, including the Career Fair and Saturday Seminars, remotely. Program Manager Shelle Hamer says, "Everyone has really stepped up, and the students were highly engaged with the new version of the Program.  Our virtual Career Fair will be just as robust as our Career Fairs in the past, and it will now be accessible to youth all across the State!"