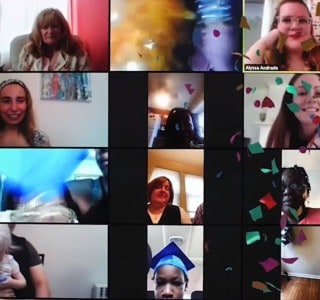 Education Programs Mark Milestones
In past years, graduation from The Chicago Lighthouse's Judy and Ray McCaskey Preschool has involved hugs, high fives, and a ceremony in our playground. This year was a little different. Despite the COVID-19 pandemic, our school's six graduates still had much to celebrate. So, as has become custom over the past three months, our teachers, students, and parents turned to Zoom.
On July 2, our graduates and their loved ones met online for a one-of-a-kind commencement ceremony. "We have missed you, and I am really, really proud of you," said School Principal Lee Burklund to her young students. "In your new schools, remember to always persevere. Try hard and do your best in whatever you do."
Though socially distant, the ceremony was full of emotion. "I just really appreciate all that you have done to help my daughter become the independent, smart young lady that she has grown into now," said one of the students' mothers through tears during the ceremony.
As our graduates continue their educations, they will always be a part of The Lighthouse family. In fact, we hope to see them at one of our Scholarship Program ceremonies in the future. Over the past 16 years, The Chicago Lighthouse has awarded more than $1 million to nearly 800 students who are blind, visually impaired, and disabled, as well as Lighthouse employees who are Veterans.
This year, more than $58,000 was awarded to 24 students, who can apply the funds toward tuition, on-campus housing, books, and assistive technology. Among the recipients were 16 students working toward their Bachelor's degrees, six Master's candidates, and one Doctoral student.  The recipients represented a wide array of schools, including DePaul University, Loyola University Chicago, University of Illinois, The Ohio State University, and Penn State University.
At the ceremony, Kalari, a Chicago Lighthouse employee and past scholarship recipient, implored the recipients not to give up, despite any challenges they may face on the path ahead. After losing her sight at age 6, Kalari's father told her she would have to be "five steps ahead" to compete with everyone else because of her disability. The young woman took it to heart, and she encouraged the scholarship recipients to do the same. "Be prepared. Always be five steps ahead," Kalari said. "Seize the opportunities, and don't be scared. It's a big world out there, and it's up to us to change it."
Congratulations to our Preschool graduates and Scholarship recipients! The Chicago Lighthouse is sure you will all go on to do great things.