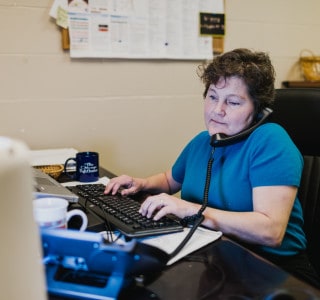 Launching Careers During the Pandemic
As the unemployment rate rises across the country, our Employment Services team has been diligent in supporting job seekers who are blind, visually impaired, disabled, or Veterans through this public health and economic crisis.
Immediately after Stay-at-Home orders were established in March, our team started making outreach calls to clients to ensure they were connected to vital resources and support. Aside from helping clients access resources for immediate needs, the team also provided employment support and worked virtually to help clients compose their resumes, conduct online job searches, and prepare for interviews.
As we navigate the new normal of social distancing, our team developed new and creative ways to support our clients through their job search. We are now offering remote computer skills training to help job seekers learn how to use screen reading software and other programs that are used in an office environment. We also have connected with our corporate partners, including Synchrony, to hold mock-job interviews via Zoom. In the coming weeks, our team will host virtual job fairs.
The dedication to our clients during this time has led to many successes. Since June, our Employment Services team has placed eight individuals with disabilities in diverse jobs. Among those placed include Marina, who has physical and visual disabilities and recently completed an internship at The Chicago Lighthouse. She now works at Access Living as a Benefits Coordinator to help ensure clients with disabilities can access certain benefits through social security.
Marcus, who also has physical disabilities, was recently hired as a Census Outreach Coordinator with help from The Lighthouse. In this role, he visits different communities to distribute resources about the 2020 Census and lets people know that participating in the Census is an easy, quick, and safe process. "It was a great feeling to get hired. I'm very happy to be working during this time," says Marcus.
"The Chicago Lighthouse has been really helpful to me. They have a lot of respect for people with disabilities, and I honor and love that. I'm going to share what I learned here with everyone else, in Chicago and beyond."
Clients have also been hired in positions at Mariano's, FedEx, the State of Illinois, and here at Chicago Lighthouse Industries. To current job seekers, Martha Younger-White, Senior Vice President of Employment & Rehabilitation Services at The Lighthouse shares this message: "Don't be discouraged. Even in the midst of this pandemic, there are still employment opportunities available, and we're here to help you get hired."
To learn how our Employment Services team can help you in your job search, please call (312) 997-3659 or visit https://chicagolighthouse.org/programs-services/employment-training/.