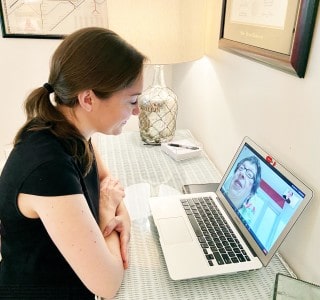 Settling into Phase 4
As the Chicagoland area settles into Phase 4 of the COVID-19 pandemic, The Chicago Lighthouse's Low Vision Clinics have made some changes to continue providing thorough evaluations – while also prioritizing patient and doctor safety.
"Patients needing visual rehabilitation expect us to consider their overall health and safety as they live with low vision," says Dr. Kara Crumbliss, vice president of Low Vision Services. "As we return to seeing patients in the office, we must determine how to meet each person's unique needs."
Age-related diseases are the leading cause of blindness and low vision in the United States. That is why, for patients over 65 or who might otherwise be at increased risk for COVID-19 complications, we will continue to offer telehealth services for optometric exams, occupational therapy, and psychological counseling. These appointments will be covered by most insurance and Medicare plans during the pandemic.
For optometric or occupational therapy appointments requiring in-person care, we are making a few adjustments to protect the health of both patients and providers.
For example, doctors in the past may have gotten physically close to patients, who often cannot distinguish facial features from across a room. As they maintain safe social distancing, our optometrists now take extra steps to identify themselves to patients, such as providing photo cards that can be viewed up close.
In addition, our clinical staff is taking extra precautions around the office, such as restricting waiting-room access and requesting only one person accompany patients to appointments. In cases where patients do not have someone to accompany them, staff guides are offering oral directions while both guide and patient hold the ends of a white cane to maintain distance.
Throughout the examination, both the provider and patient will wear facial masks and gloves, and every person entering The Lighthouse will have their temperature recorded. In addition, optometrists may wear a second, plastic facial shield when an up-close evaluation is needed, such as during device evaluation.
While these new protocols will require extra care and attention from all parties, The Chicago Lighthouse is committed to ensuring the physical and mental wellbeing of both our staff and patients, now and in the future.
Both in-person and virtual-care visits can be scheduled by calling (312) 997-3686 during normal business hours.
Back to top