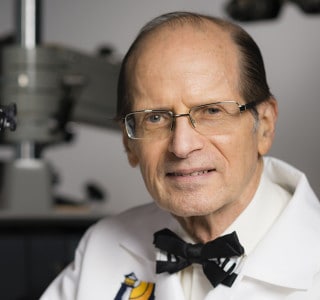 50 Years of Magical Work
Pangere Center Director Dr. Gerald Fishman retires, leaving behind a legacy of comprehensive care and changed lives for those with inherited retinal diseases.
Over his fifty-year career, Dr. Gerald Fishman has published more than 400 studies and articles in peer-reviewed journals, conducted pioneering trials of gene therapies to treat inherited retinal diseases, and been cited by Chicago Magazine consistently as one of Chicago's top physicians. But the work he is proudest of is the ability to help people when they are at perhaps their lowest point.
"The impact you can have in turning lives around by presenting diagnoses and treatments in a way that gives patients hope is incredible," Dr. Fishman says. "It may not be as exciting as removing a cataract and restoring 20/20 vision. But if I had to do it over again, I wouldn't change a thing, because providing patients with definitive answers, perhaps for the first time, can change their lives."
After ten years as Director of the Pangere Center for Inherited Retinal Diseases, Dr. Fishman will retire from the practice at the end of August. He also was a Professor at The University of Illinois-Chicago.  During this time, Dr. Fishman helped thousands of patients build fulfilling, independent lives and educated countless people about inherited retinal diseases.
"I learned so much from him as a student, not only about inherited eye diseases, but also about how to be a professional and care for other people," says Lighthouse President and CEO Dr. Janet Szlyk. "Dr. Fishman has had a tremendous impact on so many lives, including students, doctors, and patients."
Dr. Fishman came to The Lighthouse in 2010 at Dr. Szlyk's encouragement to build a practice that applied comprehensive care to patients with inherited retinal diseases. In addition to providing diagnosis and treatment, The Lighthouse offers patients psychological counseling, access to assistive technology, occupational therapy, and a place to feel at home. Working together, these programs provided opportunity and hope for his patients.
In retirement, Dr. Fishman had initially hoped to travel with his beloved wife of 50 years, Marlene, though the current pandemic restrictions put those plans on hold. In the meantime, he will work on some long-delayed manuscripts, provide consulting for some ongoing genetic trials, and rededicate himself to his longtime hobby of performing magic, especially for younger audiences.