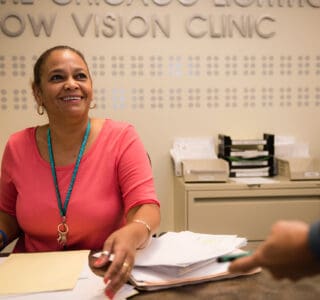 New Medical Administrative Assistant Certification Program Creates New Opportunities
This September, people with disabilities and Veterans will join a new career pathway training program to embark on a journey to learn the ins and outs of Medical Administration. The Chicago Lighthouse, in partnership with Moraine Valley Community College, will provide preparatory learning for clients to become certified Medical Administrative Assistants. Thanks to a grant from The Illinois Department of Commerce and Economic Opportunity (DCEO), the new Certified Medical Administration Assistant (CMAA) Program will prepare a total 32 Veterans and people with disabilities for careers in this growing sector.
In the following Q&A, Chicago Lighthouse Senior Vice President & Rehabilitation Employment Services Martha Younger-White outlines the Program:
What is the CMAA Program?
We developed this program in partnership with Moraine Valley Community College to help people with disabilities and Veterans launch their careers in a growing field. Through a 16-week, self-guided remote course, participants receive comprehensive assistance and training to prepare for the CMAA national certification exam offered by the National Healthcareer Association. Moraine Valley is providing the curriculum, and The Lighthouse is recruiting participants and will help with post-Program job placement.
 
What skills will participants learn?
They will learn everything they need to pass the credentialing exam and to thrive as a Medical Administrative Assistant in a doctor's office or hospital. That can include everything from basic typing and keyboarding skills to record-keeping and medical insurance coding. We will also include some customer service training and office management instruction. All of the course materials, of course, will be accessible for people who have visual disabilities or have other disabilities.
 
Who is eligible for the Program?
Our Program will focus on enrolling to people with disabilities and Veterans who are not currently employed or underemployed and who want to get into the growing field of Medical Administration. The Program is completely free, and upon completion of the course, students will receive a voucher to cover testing expenses required by the National Healthcareer Association, which provides the official credential.
 
Why is this Program important for The Chicago Lighthouse?
We are constantly looking to create knowledge-based job opportunities for our clients with disabilities and Veterans. The CMAA Program adds to our Digital Accessible Experience social enterprise, which offers accessibility consulting, and our work to create advancement opportunities for mission-based employees in our Contact Centers. Like those initiatives, the CMAA Program is a way to create opportunities for people with disabilities in a wide range of areas.
To register for the program contact:
Martha Younger-White
Senior Vice President, Employment & Rehabilitation
(312) 447-3251 or martha.younger-white@chicagolighthouse.org
Back to top