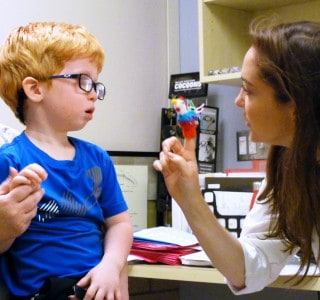 Low Vision Care in 2020: Interview with Dr. Kelly Scherer
Rates of vision loss are a growing concern as we enter the new decade. In fact, by the year 2050, the rates of visual impairments and blindness in the U.S. are expected to double.¹ As the general population is aging, there is in increase in age-related eye conditions, such as macular degeneration. Additionally, there has been exponential growth of chronic conditions related to vision loss. For instance, diabetes is the leading cause of new cases of blindness among working age adults.
Fortunately, there are many resources available to help individuals experiencing vision loss. Dr. Kelly Scherer, Director of Clinical Services at The Lighthouse's Sandy & Rick Forsythe Center for Comprehensive Vision Care, shares more information about the current state of low vision care and the resources available at The Lighthouse.
Q: How do you define low vision?
A: Low vision describes a permanent vision loss that is uncorrectable by glasses or medical treatment. In low vision care we service individuals with a large range of vision loss. Each case presents its own challenges depending on level of visual acuity, visual field, contrast sensitivity, and light sensitivity.
Q: What does low vision care look like in 2020?
A: While we continue to value optical devices such as magnifiers and high-powered reading glasses, the utilization of technology is advancing rapidly. Now with portable assistive tech devices, individuals with vision loss can function independently in environments that may not have been accessible to them before, such as in the workplace and in large cities. Devices such as the OrCam MyEye 2 enable individuals to read printed text anywhere. Accessibility features on phones such as VoiceOver enable individuals to access digital content. There are also many apps available to aid with navigation.  Assistive technology is the new frontier in low vision care, helping to increase accessibility in the world for individuals with vision loss.
Q: What is The Chicago Lighthouse's unique approach to low vision care?
A: At The Lighthouse, we take a comprehensive approach to low vision care with the goal to empower our clients and provide them with the tools they need to function independently and succeed in their personal ventures. When patients come to our clinic, they receive an individualized assessment to determine their degree of visual impairment. We then speak with our patients to learn about the difficulties they are experiencing due to their vision loss, as well as the goals that they want to achieve through treatment. From there we are able to refer our patients to other programs and services at The Lighthouse that would help them achieve their individual goals, including occupational therapy to help build daily living skills, psychological services to help work through impact of vision loss, and assistive technology. One thing I would encourage everyone to do before their appointment is to make a list of the difficulties they are experiencing due to their vision loss. The more specific you are, the more specific we can be when providing solutions to increase your independence and functioning.
Q: What advice do you have for individuals experiencing vision loss?
A: I'd encourage individuals experiencing vision loss to get involved in the community and meet others who are experiencing vision loss. It helps to speak to someone who can relate to what you're experiencing, and you can also swap tricks and tips for functioning in everyday life as you adjust to your vision loss. We offer Low Vision Support Groups here at The Lighthouse, as well as other community-based programs such as our Seniors Program. I'd also encourage everyone to schedule an eye exam! There is so much that your eye exam can reveal about your overall health, as your general health affects your vision.
For additional information about low vision services offered at The Lighthouse, including our clinic locations, visit chicagolighthouse.org/forsythe-center/
¹Varma, R., Vajaranant, T. S., Burkemper, B., Wu, S., Torres, M., Hsu, C., … & McKean-Cowdin, R. (2016). Visual impairment and blindness in adults in the United States: demographic and geographic variations from 2015 to 2050. JAMA ophthalmology, 134(7), 802-809.