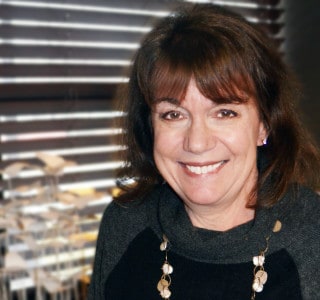 Meet Janice Clarke, Newest Member of the Clarke Family to Serve The Lighthouse
In its rich 114 year-old history, The Chicago Lighthouse has benefited from having many outstanding individuals on its Board.
It has also benefited by tapping into the expertise of two generations of the same family, four members of whom served on the Board during different time periods.  It all started during the 1950s when Norman Clarke, a vice president of Northern Trust Bank, served as president of The Chicago Lighthouse Board in 1958 and 1959.  His wife, Jane, also served on our Board during that period. Today, the Clarke's son, Robert, serves on the Board and is Chair of the Finance Committee.
Now the Clarke family's extraordinary service to The Chicago Lighthouse continues with the recent addition of Robert's wife, Janice, who joined the Board last March.
"I was delighted to join my husband, Bob, and become involved with an incredible organization like The Lighthouse, which has changed so many lives through its innovative services," Ms. Clarke says. "We both are big fans of The Lighthouse and the work that is done here on many levels."
A retired health care attorney as well as a nurse who earned her law degree from Michigan State University, Ms. Clarke explains that she would like to help The Lighthouse in any way she can.  Among her many interests is strategic planning.
Along these lines, Board Chair Gary Rich appointed her to a special task force charged with ensuring the long-term viability of The Lighthouse's Judy and Ray McCaskey Preschool, the only preschool in the Midwest to offer a blended curriculum for both children who are sighted as well as visually impaired.
"Janice is a thoughtful and engaged Board Member who is passionate about The Lighthouse," he points out.  "I look forward to working with her in seeing how we can make sure that the preschool will continue fulfilling its critical mission for years to come."
Asked how she likes serving with her husband, Ms. Clarke smiles.  "We get along very well and I believe that we complement each other," pointing out that Bob works to ensure The Lighthouse's long-term financial stability while she helps to ensure that programs like the preschool will continue to thrive. They both are committed to strengthening The Lighthouse's Endowment Fund, a key objective for Dr. Szlyk and the Board.
When they aren't involved in Board service, the Clarkes enjoy exercising, playing golf, bike-riding, traveling and tennis.