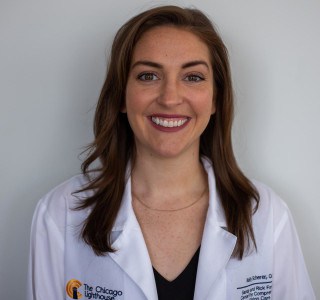 Kelly Scherer, OD
Director of Clinical Services, Optometrist – Low Vision Rehabilitation Services
Dr. Kelly Scherer is the director of clinical services and full time optometrist at Chicago Lighthouse Main. She provides both low vision rehabilitative care as well as primary care optometric examinations.
Dr. Scherer graduated from New England College of Optometry in Boston, MA. Her clinical rotations included training at a variety of hospitals and community health centers across New England with a focus in ocular disease and low vision care. Following graduation, Dr. Scherer completed a residency at the Boston Veterans Affairs Medical Center in low vision, traumatic brain injury, and primary care optometry. During her time in Boston, Dr. Scherer volunteered with Massachusetts Association for the Blind and Visually Impaired and provided eyecare in rural villages of Belize through Fellowship of Christian Optometrists.
Outside the clinic, she enjoys traveling, visiting museums, and exploring her new home city of Chicago.
Back to top