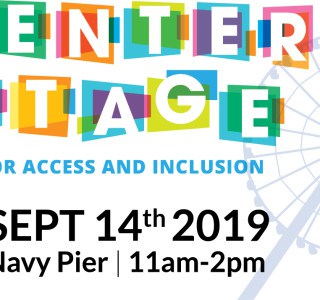 Diverse, Talented Performers with Compelling Stories Headline Chicago Lighthouse's Center Stage Concert
They include a stand-up comedian who is visually impaired, a 10-year-old drummer who is coping with cerebral palsy, an Irish dancer with autism and a church group which is deaf and sings along to music.
Meet some of the talented performers who will headline Center Stage for Access and Inclusion, the summer spectacular concert The Lighthouse is hosting at Navy Pier on Saturday, September14th from 11 am to 2 pm.
Leading the event will be Avett Ray, a seven-year old piano YouTube sensation from Dayton, Ohio, who happens to be visually impaired and was featured on The Today Show.
Among those joining Avett will be Martell Hill, The Lighthouse's resident rapper who has coped with vison loss and cerebral palsy; Ben Noble, a stand-up comedian who is visually impaired and also works at The Lighthouse; Alex Gamino, a budding musician with the School of Rock band who is visually impaired; and Dallas Wayne Hardwick, a 10-year-old drummer with cerebral palsy who won the 2018 Chicago Bulls Talent Search.
"We wanted to dramatically illustrate the breath of talent in Chicago's disabled community and give them a platform to share their amazing stories," said Lighthouse President and CEO Dr. Janet Szlyk.
Dr. Szlyk encourages Chicagoans and tourists alike to come to Center Stage and be "all in for access and inclusion!"
"Despite the progress we have made, much more needs to be done to ensure full equality for our fellow citizens with disabilities," she noted.
Dr. Szlyk suggested that among things we can do are employ people with disabilities; support the services of The Chicago Lighthouse and other organizations; ensure that our homes, schools, and offices are fully accessible; and just extend a hand of friendship to someone with a disability.
Anyone who is interested in sponsorship or other information about "Center Stage for Access and Inclusion" can call (312) 447-3246 or visit the Center Stage event page.