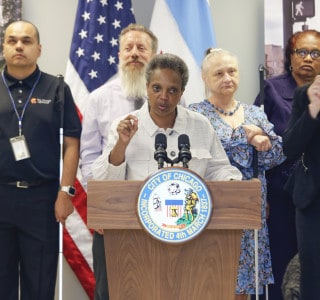 Mayor Lightfoot and The Chicago Lighthouse Push for a More Accessible City
Mayor Lori Lightfoot chose The Chicago Lighthouse as the venue to announce that her administration will add up to 100 new Accessible Pedestrian Signals (APS) at locations across the city to better accommodate individuals who are blind or visually impaired.
The Mayor made the announcement at a morning press conference on Friday, July 26, which happened to coincide with the 29th anniversary of the enactment of the landmark Americans with Disabilities Act.
"Chicago's mission is to be the most inclusive and accessible city in the nation, and that means building a transportation system that fully serves every resident," Mayor Lightfoot stated.
While praising The Chicago Lighthouse for its excellent services, she also pointed to a Lighthouse connection to her proposal.  Greg Polman, our senior vice president of public policy, serves on an advisory committee that reviews and makes recommendations on accessibility-related matters including installation of the pedestrian signals.
"These additional signals will enable those of us who are blind or visually impaired to more safely navigate our streets," Mr. Polman said in his remarks at the press conference.
Prior to her remarks, Mayor Lightfoot was warmly greeted by Lighthouse President and CEO Dr. Janet Szlyk.  In her welcome remarks, Dr. Szlyk noted that The Chicago Lighthouse has been a pioneer for access and inclusion in all our programs.  She also commended the Mayor as well as her two predecessors and Commissioner Karen Tamley for their efforts to make Chicago one of the most disability friendly cities in the world.
As she entered the room, Mayor Lightfoot was serenaded by the magical sounds of Vision Quest, our own band of talented musicians, who played, "Sweet Home Chicago!"
The press conference was covered by the Chicago Sun-Times and WLS-TV.  For highlights of the event, click on https://chicagolighthouse.org/about/media/