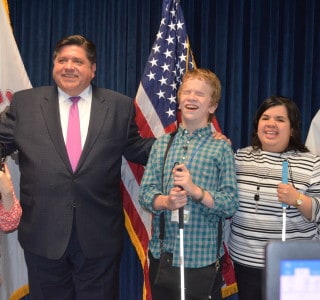 Lighthouse Summer Interns Have Once-in-a-Lifetime Opportunity to Interview Governor
Daniel Semro and Hannah Hakes have an unusual response to the question,  "how I spent my summer vacation."
Daniel and Hannah, two promising students who happen to be blind and are participants in The Lighthouse's First Jobs Program, had a once-in a lifetime opportunity to interview Illinois Governor JB Pritzker at his Chicago office on August 1.
"I was so thrilled to meet Governor Pritzker and talk with him about his day to day responsibilities and his goals as governor," said Daniel, a student at the Illinois School for the Visually Impaired in Jacksonville, Illinois.
"He was very friendly, made us feel welcome and was easy to talk to," added Hannah, a student at Northern Illinois University.
For his part, the Governor was a gracious host who wound up spending more time with Hannah and Daniel then the initial 30 minutes that were allocated for their interview.
The extra time enabled the students to engage the Governor on a wide range of topics, including disability rights, transportation and the landmark Americans with Disabilities Act (ADA).
When asked about the upcoming 30th anniversary of the ADA, Governor Pritzker acknowledged that while much progress has been made in helping the disabled community enjoy greater independence, more still has to be done to ensure that we have a truly equitable society.
"My administration is fully committed to assisting people with disabilities," the Governor said, noting that he increased funding for disability-related social programs in this year's state budget.
Asked by Daniel if he would appoint a disability advisor on his staff to help engage him with Illinoisans with disabilities, the Governor pointed out that he already has a transparent administration in place that reflects the diversity of the State of Illinois, including the disabled community.
Both asked the Governor what he hoped his legacy will be.  To which, he responded: "Promoting greater support and boosting funding for early education."
"Investment in early education is critical not only for the development of our children and to help ensure that the doors of opportunity will be wide open to them, but it is also a smart investment in the future of our state," the Governor maintained.
In addition to public policy issues, the students asked Governor Pritzker how he balances his official duties with his responsibilities as a father and husband.
"It is challenging I must admit, but my family and I work very hard to  ensure that we spend quality time together as often as possible."
Following the formal interview session, the Governor posed for photos with the students.
"We can't thank Governor Pritzker enough for taking time from his busy schedule to speak with our students," said Lighthouse President and CEO Dr. Janet Szlyk, who accompanied them on their visit.  "He has given Hannah and Daniel an extraordinary experience that they will share with their family and friends and remember  for the rest of their lives!"