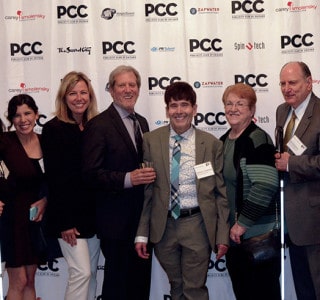 Lighthouse Dominates 60th Annual Golden Trumpets Awards
The Chicago Lighthouse cleaned house by taking top honors at the Publicity Club of Chicago (PCC)'s 60th Annual Golden Trumpets Awards Dinner held at the Palmer House Hotel on June 6.
The Lighthouse won Golden Trumpets for its innovative New Fashion Clocks initiative that was first launched in 2017 and its wildly popular Lighthouses on The Mag Mile public art display which captivated the nation last summer.  Both the fashion clocks and Mag Mile entries were also in contention for PCC's coveted Quality of Life Award, which the fashion clocks ultimately won.  In addition, our 2018 Annual Report, "Inclusion" won a Silver Trumpet Award.
Since 2004, The Lighthouse has won 11 Golden and five Silver Trumpet Awards for outstanding achievement in public relations, special events and publications.
In addition, Dominic Calabrese, senior vice president of public relations and a past PCC president, who recently retired, took home the 2019 Lifetime Achievement Award.
Calabrese, the recipient of seven Golden Trumpets in his career, dedicated the award to his late mother for always giving him the encouragement and support he needed.
"I want to thank The Chicago Lighthouse for providing me with the opportunity to promote the life-changing work it does and to share the incredible stories of the people it has helped," he said.