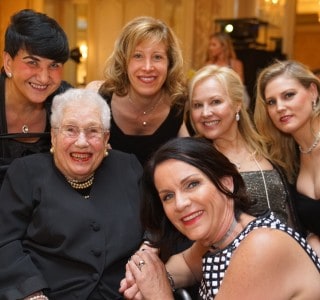 Lighthouse 2017 Gala Goes Hollywood!
The Chicago Lighthouse went "Hollywood" this year at its Annual Seeing What's Possible Gala on June 9 by featuring a red carpet premiere of an upcoming PBS profile on "The Visionaries."  The Lighthouse will be showcased on the acclaimed series this fall, which spotlights innovative non-profits from around the world.
Receiving accolades from the audience were the documentary's producers, Jody Santos and Lit Turner, as well as Executive Director Joe Gieger and Board Chair Hugh Parry of First Non-Profit, which provided funding for the film.
The Gala, which attracted 340 supporters and raised over $350,000, also saluted Lighthouse Board Member Larry Broutman, an award-winning photographer and author who has worked tirelessly as a goodwill ambassador for the organization. In addition, outgoing Board Chair Richard Schnadig was honored for his outstanding service.
Serving as Gala chair was The Lighthouse's own "Hollywood star," Board Member and prominent Chicagoan Anida Johnson "Cookie" Cohen.
The festive event, which was held at the Four Seasons Hotel, was emceed by ABC 7 reporter Leah Hope.
All proceeds benefitted Lighthouse programs serving people who are blind, visually impaired, disabled and Veterans.