Longtime Lighthouse Supporters Endow Vision Research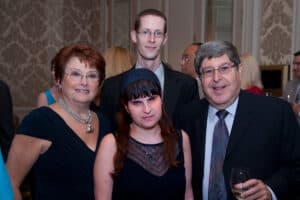 The minute Ruth Ross walked in the door at The Chicago Lighthouse in 1981, she knew she was in good hands. Her young daughter, Lauren, had been recently diagnosed with aniridia, an eye disorder characterized by the absence of an iris, which can result in blindness and cognitive impairment.
"As soon as I walked in the door, I felt welcomed and came to the realization that my daughter would get the help she needed," Ruth recalls. The former Chicagoan, who now resides in Arizona, says it was one of the best decisions she ever made.
"The Lighthouse's vision specialists performed a series of tests on Lauren and assured us that she had some remaining vision," Ruth says. They quickly enrolled Lauren in the agency's Birth-to-Three Early Intervention Program (where she learned to maximize that remaining vision and to use other senses to reach development milestones). She attended school with her peers and took up competitive swimming, finishing sixth in a statewide competition. After graduating from Glenbrook North High School, Lauren attended Bradley University, where she studied radio and television and graduated with honors.
After a promising start to her career, Lauren's overall health took a turn for the worse and she passed away at the youthful age of 39 in 2021. Ruth and Steve never forgot the life-changing support that Lauren received from The Lighthouse.
"We will always owe them a huge debt," Ruth maintains.  "They gave Lauren and our family a whole new lease on life!"
Seeking to honor Lauren's memory in a special way while helping The Lighthouse fulfill its critical mission, Ruth and her husband, Steve, opted to fund the groundbreaking research being conducted by the agency's acclaimed low vision research program.  The program was established by Lighthouse President and CEO Dr. Janet Szlyk, a highly respected vision scientist.
As a result, the Lauren M. Ross Chair in Low Vision Research was endowed for Dr. Patricia Grant, who also serves as Vice President of Research at The Lighthouse. You can read more about the life-changing programs funded through this endowed chair in our Q&A with Dr. Grant.
Note: As this article was being prepared, Steve Ross passed away after a long illness. The Chicago Lighthouse extends our deepest condolences to the Ross family.
Back to top