Pioneering the Future
Groundbreaking Programming Offers New Perspective of Vision Care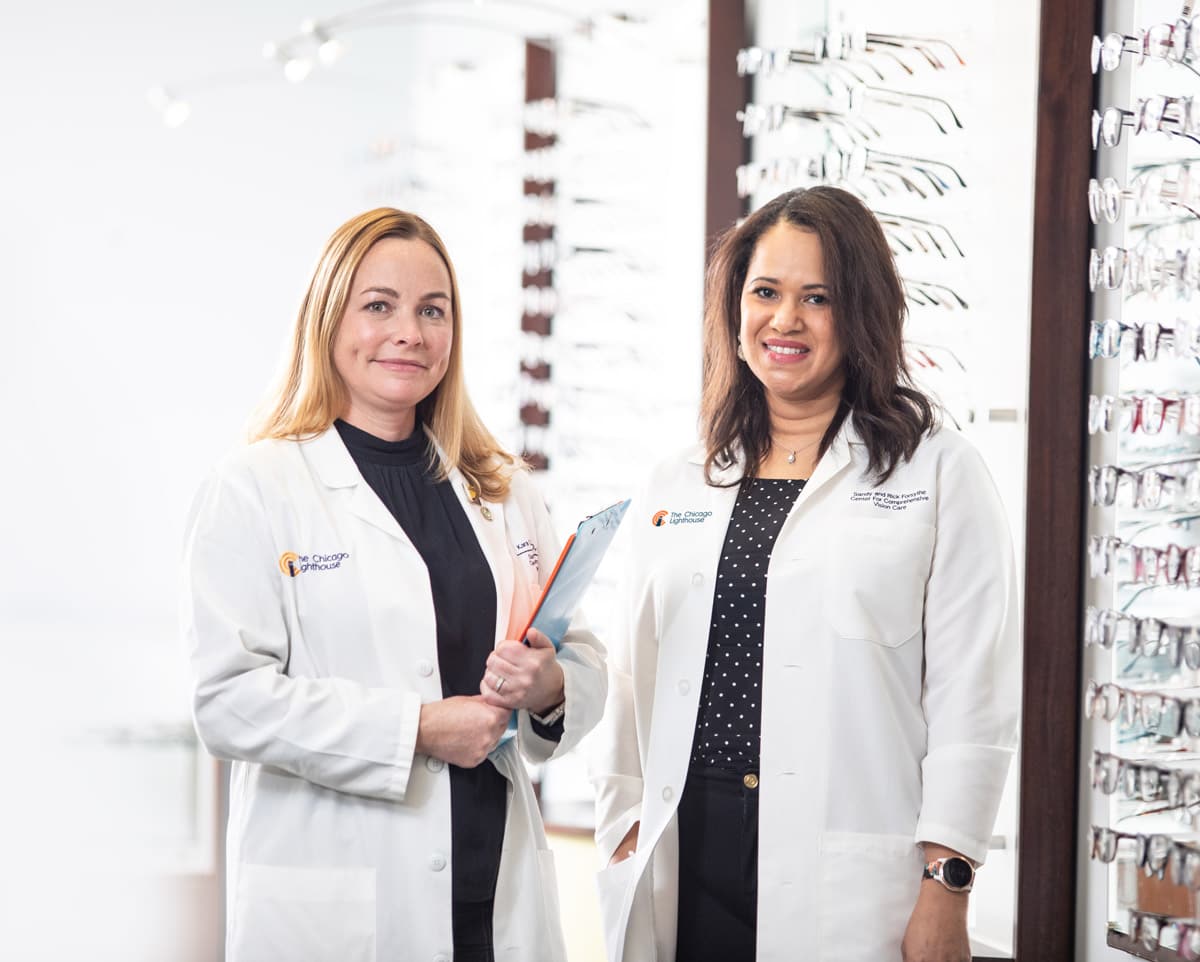 Dr. Kara Crumbliss, Optometrist and Senior Vice President of Clinical Services, and Dr. Patricia Grant, Vice President of Research, are pictured in our Low Vision Clinic.
Our approach to low vision care has always been all-encompassing, helping patients to maximize their vision and succeed in all areas of life. As we continue to respond to the evolving needs of our community, we are focusing on addressing the causes of vision loss and empowering patients to play a more active role in their care.
Natasha, a participant of our new Diabetes Prevention Program, credits the program for helping her make healthier choices.
Diabetic eye disease is the leading cause of blindness in the United States. According to a study performed by UI Health, the diabetes rate is as high as 37% in some Chicago neighborhoods, particularly those surrounding The Lighthouse. To help close the gap in access to preventative care, our Research Team has partnered with Chicago Cares to Prevent Diabetes to administer a free, CDC-certified program teaching people who are at-risk of type 2 diabetes to develop healthy lifestyle changes.
Participants of the program meet virtually as a group on a weekly basis with a trained lifestyle coach to discuss goals and strategies for weight loss and physical fitness. "By learning how to live a healthier lifestyle, they're avoiding not just the onset of diabetes, but the complications that go along with it, including vision loss," says Dr. Patricia Grant, Vice President of Research and Program Lead.
"I took this opportunity as a way to gain more accountability for my health," says program participant Natasha. "It's been great to learn about healthy eating and exercising."
A key element of the program's success is the support that participants receive from one another. "If you're experiencing a problem or feel like you've had a setback in your progress, you have a community of people working with you to find solutions and helping you accomplish your goals," says Dr. Grant.
To further help our community prevent diabetes-related eye disease, we recently launched a Diabetic Teleretinopathy Screening Program, providing free eye screenings. Data suggests that only half of diabetics are receiving routine eye care. The program is helping us to reduce rates of blindness in the city as we can detect eye diseases early, when treatment options are still available.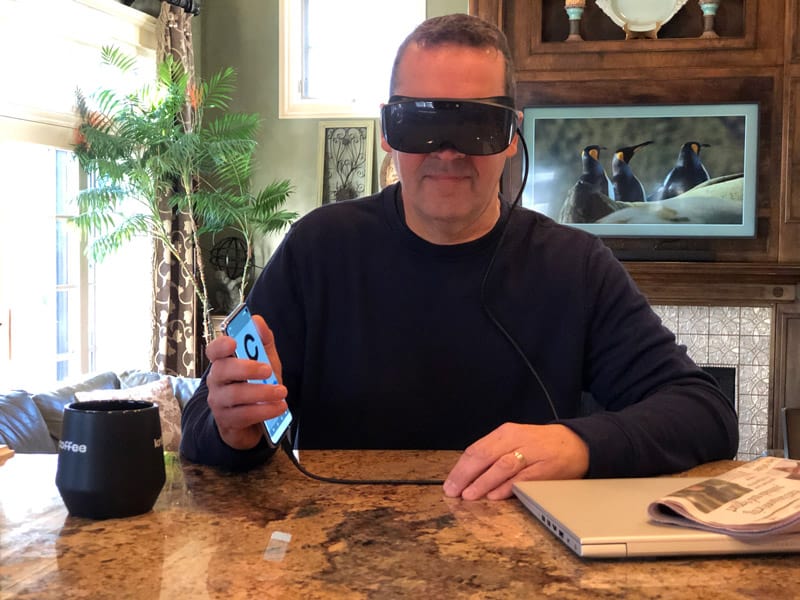 The Digital Vision Clinic by IrisVision Global may allow vision care providers to administer vision tests remotely to patients through a wearable device.
Another way our low vision research team is helping to enhance care is by contributing to the research and development of a telehealth platform called the Digital Vision Clinic by IrisVision Global. The Digital Vision Clinic may allow vision care providers to measure a patient's visual acuity, visual field, and contrast sensitivity remotely on their newly released device, Inspire. Patients can also use the device to connect to their providers on a web-based portal for telehealth visits. "Through this technology, we may be able to track vision daily and learn about patterns of visual fluctuation and changes in visual function," says Dr. Kara Crumbliss, Senior Vice President of Clinical Services.
The device may break barriers to care, such as transportation, by allowing doctors to test and monitor vision while patients are at home. The device may also allow for "improved exam efficiency for in-person appointments by allowing patients to self-administer some vision tests while waiting to see their doctor," says Dr. Crumbliss. Drs. Grant and Crumbliss look forward to the many possibilities this technology may provide to improve the efficiency, convenience and quality of our care.
Back to top