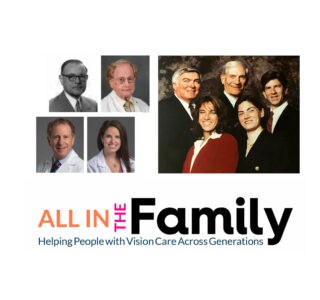 All in the Family
Helping People with Vision Care Across Generations
The Deutsch Family—Though his father and grandfather were both ophthalmologists, Dr. Thomas Deutsch says he never felt any pressure to become one himself. Nonetheless, he saw the advantages. "I came home and had dinner every night with someone who clearly loved what he did," Tom says.

Four Generations of Ophthalmologists: (l. to r.) Dr. Emil Deutsch (circa 1922), Dr. William Deutsch, Dr. Thomas Deutsch, and Dr. Rebecca Deutsch Sarran.
So, when the time came for Tom to select a medical specialty, the choice was obvious. In addition to the family predisposition to the practice, ophthalmology offered opportunities to see near-immediate results of his work with patients. "I looked at all the different specialties and kept getting drawn back to ophthalmology," he says.
A generation later, Tom's daughter, Dr. Rebecca Deutsch Sarran, drew upon a similar sentiment when choosing her own medical specialty. "Like my dad, I had a first-hand daily view of someone who loves what he does," she says. "And everyone is so smart and hardworking in this field."
They are also dedicated to their communities. When he was invited to join The Lighthouse's Board, Tom accepted after asking for advice from his father (who had served on the boards of several organizations over his career), who said: "Whenever someone asks you to help, if you can give that help you should say yes. Then, you should be fully committed to it."
Rebecca one day hopes to serve on medical and charitable boards like her father and grandfather. Now is not that time, however. In addition to building her ophthalmologic career, she and her husband are the parents of a young boy, born in 2020.
Will her son represent the fifth generation of Deutsch ophthalmologists? Time will tell. "He hasn't decided yet if he's going to be an ophthalmologist," Rebecca says. "It will be interesting to see what his perspective is."
---
The Kraff Family—With two current and two retired ophthalmologists sitting around the table, one might imagine Kraff family gatherings to be filled with debate about the latest eye-care procedures. Fortunately, that is not the case.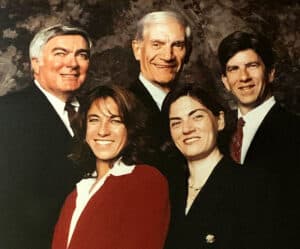 The family behind the Kraff Eye Institute: Front: Dr. Caryn Orlin-Kraff (retired), Dr. Cheryl Kraff-Cooper. Back row: Dr. William Lissner (retired), Dr. Manus Kraff (retired), Dr. Colman Kraff.
"We generally don't disagree ophthalmologically, though we may disagree on other things," says Dr. Cheryl Kraff-Cooper, who along with her brother, Dr. Colman Kraff, works at the Kraff Eye Institute in Chicago, which was founded by their father Dr. Manus Kraff. (The fourth member of the family is retina specialist Dr. Caryn Orlin Kraff, who recently retired.)
With its combination of medical care and surgical treatment, ophthalmology is an opportunity to change peoples' lives, Dr. Kraff-Cooper says. "Vision is so important for independence," she says. "Helping people with limited vision see even just a little bit more has been particularly rewarding."
Beyond their work treating vision, the Kraffs are deeply involved in The Chicago Lighthouse. Manus sits on The Lighthouse's Board. Cheryl has been a member of our Associate Board for more than 30 years, where she has served as president, correspondence secretary, volunteer coordinator, and chair of the Board's House and Garden Walk several times. Colman's wife, Julie, has also served on our Associate Board for more than 30 years.
The Kraff's connection to The Lighthouse is now extending into the third generation, as Dr. Kraff-Cooper's daughter, Allie Davidson, has been a member of the Associate Board for the past several years. Though she is not an ophthalmologist like her mother, uncle, aunt and grandfather (she is a reading specialist), Allie's exposure to the issues surrounding low vision made the board a natural fit.
"Growing up around so many eye-care professionals, I know how important vision care is," Allie says. "I'm thrilled to continue upholding our family legacy with The Lighthouse."
Back to top