Q&A with Dr. Tricia Grant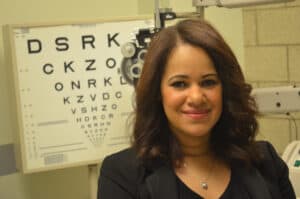 Dr. Grant's work in Low Vision Research goes far beyond the lab. A day at The Chicago Lighthouse may include working with collaborators in our Hilton Center for Prosthetic Vision on a clinical trial investigating an Intracortical Visual Prosthesis (ICVP), conducting educational Zoom meetings for people who are at risk of developing diabetes, or providing insight on cutting edge assistive technologies. In the following Q&A, Dr. Grant elaborated about the research, advocacy, and collaboration that go into her work advancing the field of low vision and empowering patients to advocate for themselves.
---
Earlier this year, the first Intracortical Visual Prosthesis was successfully implanted into a patient as part of a clinical trial. How is the next phase going?
The participant is doing great! For those who don't know, the Intracortical Visual Prosthesis is a group of wireless implants that connect directly to the brain's visual cortex, bypassing the retina and optic nerve, and may restore some light perception to people who are totally blind. The device is currently under clinical investigation and we are thrilled that the first surgery was successful. In the current study phase, the participant is visiting The Lighthouse twice a week for testing. To put it simply, during this testing the electrodes that make up the implant are activated to stimulate the brain. Once activated, the patient reports whether they are able to perceive perceptions of light (called phosphenes). The team is slowly and safely building up to activating more electrodes and carefully monitoring the participant's safety and comfort during testing. Everything is going well so far, and the team is learning a lot from working with this first participant.
Your role in groundbreaking work at The Chicago Lighthouse led to you being honored with the Lauren M. Ross Chair position by the family of Ms. Ross. Can you tell us more about what this position means to you?
The Ross family is incredibly kind and generous. After Lauren tragically passed in 2020, her parents, Ruth and Steve, wanted to find a way to give back to The Lighthouse in appreciation for the support she received after her low vision diagnosis. They ultimately chose to support my work in research because they wanted to contribute to developing treatments and care for low vision. As both a mother and a researcher, this honor is very meaningful to me. Ruth and Steve's love for their daughter is poured into all of the work that I do. I want her name and memory to live on in a way that positively impacts others. I was very saddened to hear of Steve's passing just a few weeks ago, after battling a long-term illness. I am grateful for the time I spent with him and Ruth and that I know how important this dedication was to him. I am honored to continue my work in both his and Lauren's memory.
One of the projects you have been working on is a new telehealth system with IrisVision called the Digital Vision Clinic. What has been your role in this work? 
The Digital Vision Clinic (DVC), is a telehealth platform being developed as an add-on feature to the Inspire by IrisVision wearable assistive device that is already available on the market. The platform digitally connects patients and providers outside of the clinic setting through a web-based portal and mobile technology. It will be used for video consults, virtual vision rehabilitation visits, and to order and self-administer numerous vision tests. Before the platform is released, we need to validate the remote tests to ensure that they meet testing standards. In my role, I led in the design of the study and am now working with the IrisVision team to implement it. In addition, I am working with the company to test the telerehabilitation component within the Veteran population. The Veteran population can especially benefit from reducing barriers to care, which can be made possible through this remote platform.
Recently, you have been partnering with organizations across the country through your work with Prevent Blindness. What does this work entail?
Prevent Blindness is a national organization that brings together a variety of stakeholders dedicated to preventing blindness and preserving sight, including non-profit organization, government agencies, technology companies, and more from across the country. As a group, our primary focus is on advocating for policies surrounding vision care and teaching patients how to advocate for themselves.
I participated in their inaugural A.S.P.E.C.T. program, which centers on training patients to become advocates for vision and eye health issues. This aligns with so much of the work we do here at The Chicago Lighthouse. For example, in our Diabetes Prevention Program we work with people to better understand their health risks and how to avoid them. We know that knowledge empowers people and we want people to live their healthiest lives possible and avoid all of the health complications that accompany diabetes, such as eye disease.
I also serve as a member of Public Health and Policy Committee at Prevent Blindness. In this role, I work with the committee to provide guidance and input on issues related to public health policies that preserve sight, fight blindness, and promote comprehensive patient-centered eye care. I participate in webinars and other speaking engagements to inform the community about the resources and research opportunities available at The Chicago Lighthouse. For the past couple years, I have participated in their "Eyes on Capitol Hill" event. During this event, patients, caregivers, eye care professionals and other stakeholders meet with members of Congress to inform them about vision and eye health issues. This year, we discussed the importance of the Center for Disease Control and Prevention's vision health programs. We encourage people who are living with vision loss to further advocate for these issues by sharing their personal stories. Professionals and patients working together provides a more comprehensive perspective of an issue and allows us to deliver a more powerful message to decision-makers. I appreciate the opportunity to talk about issues that are important to me, the work that I do, and the population that we serve.
---
If you are interested in learning more about Low Vision Research at The Chicago Lighthouse and how you can participate in a study, visit our Low Vision Research Page.
Back to top