Love Renewed Every Month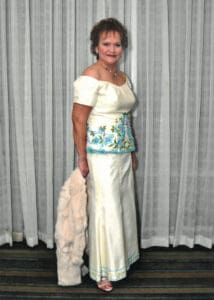 Bart Freihaut, Ph.D., adoringly describes his late wife of 47 years, Leticia (who went by Letty), as "beautiful on the inside and the outside," particularly when it came to the positive impact she had on the world around her. Like her husband, Letty was an educator dedicated to helping mold the next generation. She was also a celebrated civic leader of Chicago's Filipino American community and the International Lions Clubs. As a former president of the Franklin Park Manila Lions Club and the Chicago Filipino American Lions Club, she won the distinguished Melvin Jones Award twice.
The Chicago Lighthouse was fortunate to receive a gift in her memory, in part because of our longstanding relationship with Lions Clubs International. That spurred Bart and his children to learn more about the organization. "We visited and saw all the nice work you do and decided to keep giving."
Moved by The Lighthouse's work—and wanting to make a lasting impact in Letty's honor—Bart established a recurring donation, which is transferred directly from his bank account to The Lighthouse each month. As a retiree, he explains "I have the money from my pension funds, and I decided it would be easier for both me and The Lighthouse to know that money is coming regularly."
Chicago Lighthouse President and CEO Janet Szlyk, Ph.D., agrees, saying "recurring gifts are extremely helpful to The Lighthouse. They provide a steady stream of revenue which allow us to better plan for the future."
Now, Bart looks forward to receiving his bank statement every month, where he can see how Letty's beautiful legacy lives on through his support of our essential services for individuals who are blind, visually impaired, disabled and Veterans. He hopes his gifts and Letty's life of service will inspire others to join him in making monthly gifts to The Lighthouse.
To set up your recurring gift or learn more, contact Senior Director of Individual Giving Lora Nickels, at lora.nickels@chicagolighthouse.org or (312) 997-3643.
Back to top