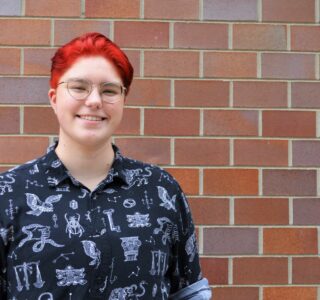 Q&A with Fay Zeigler, Our New Youth Transition Program Manager
It's been a busy summer for The Chicago Lighthouse's new Youth Transition Program Manager Fay Zeigler. Having graduated from Northeastern University with a bachelor's degree in neuroscience in May, Fay (who uses they/them pronouns) joined The Lighthouse as Youth Transition Program Manager in June and has spent the summer shadowing the program's First Jobs and Photography for All sessions. As those sessions wrap up, Fay is turning their attention to expanding the Youth Transition Program, including bringing back the Summer in the City week-long residential program and launching new offerings, such as local college tours that highlight accessibility features for students who are blind or visually impaired.
What brought you to The Lighthouse?
I just graduated in May, and Northeastern has a co-op program where you work for different organizations as you're pursuing your degree. My first co-op was at Perkins School for the Blind, where I was a teaching assistant in their secondary program, and I fell in love with it. After that, I began directing my neuroscience studies to focus on visual impairments to get a better understanding of them.
I grew up here, and I wanted to come back to Chicago. When I saw the job, it seemed like a perfect opportunity to help others while also teaching me more about visual impairments and blindness from a functional perspective.
What were your first impressions of the Youth Transition Program?
I'm really impressed at how much the youth participants want to work and improve their skills. Every single participant I've interacted with is excited to be here. No one is here because their parents forced them, which is what I worried about during my summers when I was a camp counselor. There are a bunch of returning participants who are in their second or third years, and that really speaks to the program's strengths.
Now that you've experienced the Youth Transition Program a bit, what are your thoughts for expanding it?
I know that we want to make it year-round. We just held a two-day coding camp in partnership with the University of Illinois. Most coding languages are not accessible for people with visual impairments. The professors there are working on making a programming language that is accessible, opening up opportunities in computer programming for students with visual impairments. The professors from the University of Illinois will use the feedback from our camp to guide the development of their code. We are hoping this will become an ongoing partnership with the team to develop programs in coding and electronics.
We're also trying to expand our career-building programs and other activities. Making connections with others is a really important part of adolescence, but it can be really hard when you may be self-conscious about having a disability. We want to help our participants build a network of friendship and support. I also want them to understand that the world is filled with opportunity. That's one of the reasons we're trying to set up the college tours. I'm hoping we can have the first of these events this spring.
Back to top