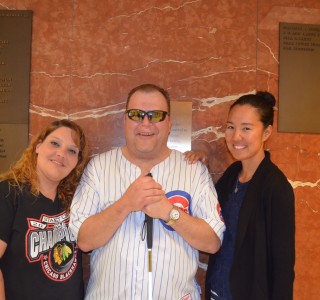 BrainPort Generates Hope on Father's Day
His life changed forever in 2011. In the span of a few moments, he was robbed of his sight after enduring a brutal attack. He would go on to experience a long period of rehabilitation and make the difficult adjustment to a whole new lifestyle.
Now five years later, as he prepares to celebrate Father's Day this weekend, Andy Fabino, 44, is counting his blessings and expresses optimism about the future.
"I am so very fortunate to have a loving wife, Kristie, and a wonderful family along with caring, supportive friends," he says. "As a result of what happened to me, we have all drawn closer. When you think about it, I am a lucky guy!"
Fabino credits Kristie for being his anchor.  She persuaded doctors not to take him off the life support system he was on following his attack. He also acknowledges that his faith in God has helped get him through the very rough patches.
An affable man with an engaging smile who is a die-hard Chicago Cubs fan, Fabino is confident that he will see again one day. "In my heart of heart, I just know it," he maintains.
Helping to fuel his optimism are technological innovations like the revolutionary new BrainPort V100 vision device, which Fabino has been utilizing at The Chicago Lighthouse, one of the nation's most  comprehensive social service organizations assisting people who are blind, visually impaired, disabled and Veterans.
Developed by Wicab, Inc., a Middleton, Wisconsin-based medical device company, BrainPort is a nonsurgical FDA-approved assistive visual aid which gives individuals who are blind the ability to do things like recognize and reach for nearby objects; identify letters and numbers; and eventually become more aware of their surroundings.
Closely working with Fabino is Meesa Maeng, assistant director of research with The Lighthouse's renowned low vision research laboratory directed by Dr. Janet Szlyk, a highly respected research scientist and President and CEO of the 110-year-old social service organization. With its national reputation for providing cutting-edge programs to assist people who are visually impaired, The Lighthouse has been an instrumental partner with Wicab in providing training for and systematically testing and evaluating the device.
Maeng explained that BrainPort consists of a postage-stamp-size electrode array for the top surface of the tongue, a base unit, a digital video camera and a hand-held controller. It translates visual information from a digital video camera to a blind person's tongue through gentle electrical stimulation.
BrainPort has given a sense of renewed hope to people like Fabino.
"Andy is absolutely incredible," she smiles. "He has a marvelous can-do attitude and is making steady progress with the device."
Maeng notes that Fabino watches television with the device at home. "Because he had vision prior to his accident, he has memories of what certain shows and movies were like," she points out. "Andy regularly watches TV shows and movies that he has seen before – and when he senses the movement on his tongue from the TV screen, it creates an "image" for him which we are sure is strongly connected to nostalgia and the vision he used to have. For him, using BrainPort gives a sense of the excitement of being there!"
Fabino, who previously read blueprints as an architectural hardware consultant, also remains active by listening to books on tape, performing tasks around the house and cheering on his beloved Cubs. In fact, the life-long fan practices Cub Manager Joe Maddon's "enjoy life, have fun" philosophy.
"I'm very hopeful that this will be the Cubs' year.  However, I will remain equally optimistic about 2017!" he laughs.
"That upbeat attitude is what Andy is all about," Maeng observes.  "He also has  a lot of passion for life and a fierce determination to achieve his goals.  He is the kind of guy everyone would root for to succeed."
Back to top