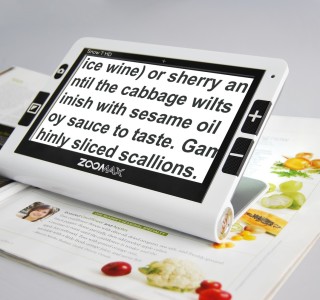 Gift Ideas for Dads and Grads with Vision Loss
June 16, 2016
With Father's Day just around the corner and graduation season in full swing, many might still be at a loss as to what to give their loved ones with vision loss. Things like clothing, perfumes, gift cards and tickets to concerts or their favorite sport teams are always a great option. If you are looking for specific and accessible products for your friend or family member with vision loss, The Tools for Living Store at The Chicago Lighthouse carries over 900 different items.
Technology is the perfect gift for both the dads and grads on your list. The store carries something for everyone, from talking devices to digital recorders and of course, the always popular magnifiers. The technology guru will enjoy the Explore 5, a new and very popular handheld magnifier from Humanware. Its regular price is $795, but you can purchase it for $595 for a limited time. The new Orcam device will also facilitate reading for people with little or no vision. Your college bound loved ones might also appreciate a talking or large print calculator or portable note taking device.
The chef in the family will greatly enjoy and benefit from the various cooking tools the store offers. These include Braille and large print measuring spoons and cups, talking meet thermometers, special spatulas and numerous other tools. A variety of other talking, Braille and large print products will also help your loved one be more independent at home, school or work. Of course, it is also important to have some fun after working and studying hard! The store also sells a wide variety of large print and Braille games so you and your loved ones can unwind at the end of the day.
We realize more than anyone that protecting your eyes from the sun is very important during the summer, and this is also true for people who are blind or visually impaired. Everyone will benefit from the wide selection of sunglasses sold at the store. If you simply want to get a souvenir, you can choose from Chicago Lighthouse mugs, shirts, tote bags and more. The Braille readers on your list will surely appreciate a Braille greeting card along with their gift! Other small items, like pocket flashlights are also available. Regardless of your choice, your loved ones with vision loss will both enjoy and benefit from your gift this summer.
The Tools for Living Store is holding an online sale through the end of June. With the purchase of $100 or more, shoppers will get a 10 percent discount at checkout (some exclusions apply.) To order and take advantage of this sale, visit www.lighthousetoolsforliving.org. To find out more or purchase any of the products, you may stop in person at our main location at 1850 W. Roosevelt Rd. in Chicago or at our Glenview facility at 222 N. Waukegan Rd. You may also call toll free at (800) 919-3375(800) 919-3375 or email store@chicagolighthouse.org. Proceeds from all products support the programs offered at The Chicago Lighthouse.
Happy Father's Day and best of luck to all the new graduates from all of us at The Chicago Lighthouse!
Back to top