Inviting All Sandy's View Readers to the Intracortical Visual Prosthesis Information Session
The Chicago Lighthouse is constantly researching innovative technologies that can help individuals with vision loss! Today, I would like to invite our Sandy's View readers to check out the informational session on the Intracortical Visual Prosthesis Project. Conducted by The Illinois Institute of Technology & The Chicago Lighthouse and sponsored by The National Institute of Health, BRAIN Initiative, this information session covers an experimental device intended to restore visual perception for those who are blind. Meet the researchers, learn about the intracortical visual prosthesis study, and ask questions at this educational information event hosted at The Chicago Lighthouse. More about the intracortical visual prosthesis can be found on this website.
Details:
When: March 1, 2018 10:00 AM – 12:00 PM
Where: The Beatrice C. Mayer Senior Center located at The Chicago Lighthouse, 1850 West Roosevelt Road, Chicago Illinois, 60608
For more information and to reserve your spot, please contact Patricia Rodriguez at 312.997.3672, or email her at Patricia.Rodriguez@Chicagolighthouse.org.
Participation in this research information session is voluntary.
If you are interested but cannot come to the information session, not to worry! I will be attending this event, and welcome any questions from readers about the device. You can leave a comment with your questions, or email them to sandysview@chicagolighthouse.org. These questions will be answered in a future post. Stay tuned!
Disclaimer: The research reported in this publication is supported by the National Institute of Neurological Disorders And Stroke of the National Institutes of Health under Award Number UG3NS095557. The content is solely the responsibility of the authors and does not necessarily represent the official views of the National Institutes of Health.
---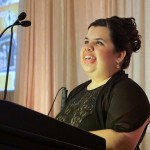 Sandy Murillo works at The Chicago Lighthouse, an organization serving the blind and visually impaired. She is the author of Sandy's View, a bi-weekly Lighthouse blog about blindness and low vision. The blog covers topics of interest to those living with blindness and vision impairments. Being a blind journalist and blogger herself, Sandy shares her unique perspective about ways to live and cope with vision loss.
Back to top