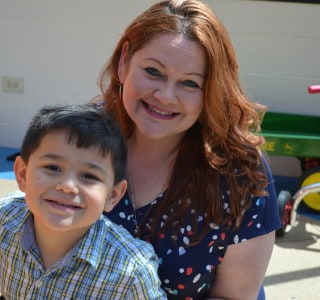 Lighthouse Preschool Mom Counts Mother's Day Blessings
She considers herself very fortunate this Mother's Day.
"After all, I have a wonderful job with the same organization that is providing my son with a quality education," says Cristina Bordabeheres, an optometric technician in The Lighthouse's Low Vision Clinic.
Her son, Salvador, is a student in The Lighthouse's Preschool located just down the hall from where Cristina works.
"It gives me so much peace of mind to know that my son is learning while I'm working and we are so close by," she smiles.
As  a single mom, Cristina observes that she works hard to cover all the bases so she can raise Salvador the right way.
She indicates that his Lighthouse experience will better prepare him for the future.
"Not only is he acquiring knowledge in basic subjects like writing and math, but he is learning how to be a compassionate, caring young boy," she says.
Noting that the preschool accommodates children who are both sighted and visually impaired, Cristina adds that Salvador is gaining a greater appreciation for diversity.
"With all the opportunities it has provided to Salvador and me, we are both truly blessed to be part of The Chicago Lighthouse family!"
Back to top