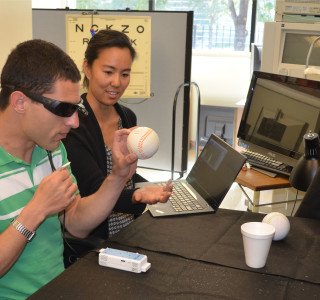 Argentine Journalist Discovers New Hope at Chicago Lighthouse
When Argentine journalist Federico Romagnoli, who is totally blind, first heard about an innovative new device that could help him, he said that he would be willing to travel a long way to learn more about it.
As things turned out, he wound up travelling some 6,000 miles all the way to The Chicago Lighthouse!
There, Federico trained on the BrainPort V100 vision device, which gives individuals who are blind the ability to do things like recognize and reach for nearby objects; identify letters and numbers; and eventually become more aware of his surroundings.
Developed by Wicab, Inc., a Middleton, Wisconsin-based medical device company, the BrainPort V100 is a nonsurgical FDA-approved assistive visual aid that translates visual information from a digital video camera to a blind person's tongue, through gentle electrical stimulation.
With its national reputation for providing cutting-edge programs to assist people who are visually impaired, The Lighthouse has been an instrumental partner with Wicab in providing training for and systematically testing and evaluating the device.
After trying the BrainPort V100, Federico, who is normally quiet and reserved, could barely conceal his excitement.
"Wow!," he exclaimed, flashing a broad smile.  "I have just experienced a sensational new world that I have not known in all my 34 years of living!"
Federico explained that he has been without sight his whole life, owing to a condition called retrolental fibroplasia, an unusual eye disease occurring in premature infants, usually from being given high concentrations of oxygen, which causes abnormal formation of fibrous tissue behind the lens and often results in blindness.
"When I first heard about BrainPort and that it could help me, I wanted to jump aboard the first available flight to Chicago!," he laughed.
He noted that such technology is not available in his country and that despite making some progress, emerging nations like Argentina still have a way to go in providing accommodations for people who are disabled.
Accompanied by his close friend, Alicia Muzabere, and interpreter, Carla Consolini, he recently made the nearly 6,000 mile trek to Chicago.
Upon arriving at The Lighthouse, the trio were greeted by Meesa Maeng, a research associate with the agency's renowned low vision research laboratory directed by Dr. Janet Szlyk, a highly respected research scientist and President and CEO of The Chicago Lighthouse.
Maeng explained that the BrainPort V100 consists of a postage-stamp-size electrode array for the top surface of the tongue, a base unit, a digital video camera, and a hand-held controller.
Federico was trained using feedback from software which allows Meesa to view an image of the camera's direct feed alongside a pixelated display of the data sent to Federico's tongue, which he then learns to interpret as the scene around him.
"BrainPort V100 draws a picture on Federico's tongue, and through training, he learns to interpret those signals as information about his surroundings," Maeng stated. "While It takes training, patience and time, this has enormous potential for people who are blind!"
She noted that Federico was an ideal candidate to try the device because of his self-discipline, determination, intelligence and sheer will power.
"I was so impressed with him," Maeng said.  "He listened carefully to my instructions, kept his composure, did not get frustrated, demonstrated lots of patience and kept pushing himself to excel."
She added that Federico's willingness to come all the way to Chicago to try the BrainPort V100 device illustrates the worldwide reputation for excellence that The Lighthouse enjoys.
Noting that as a reporter he is more accustomed to asking questions rather than taking them, Federico chuckled when asked to describe his overall experience with the device.
"It was such a strange sensation, like bubbles popping on my tongue," he recalled.  "It was very exhausting, but at the same time, incredibly stimulating!"
He voiced optimism about BrainPort V100 for "having the potential to open up new doors to people who are blind and giving them a renewed sense of hope."
Federico also expressed his appreciation to Wicab for developing the device.
In addition, he praised Maeng for her professional and warm demeanor and for making him and his friends feel so welcome!
Finally Federico had kind words for The Chicago Lighthouse after taking a quick tour of the 109 year old agency,
"This is an incredible place," he maintained. "The research area, vision clinic, clock factory, school, store, radio station and more! It just goes to show you that even a hard-nosed reporter like me can learn about new things!"
---
If interested in Brainport technology, contact Patricia Grant, clinical research director at Wicab, Inc., at (608) 829-4511 or email pgrant@wicab.com
Back to top