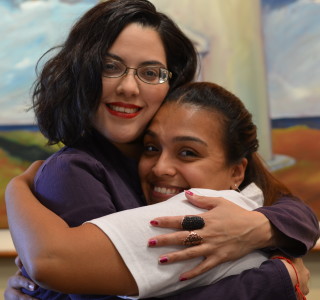 Family Makes All the Difference in Low Vision Care
It was her twin sister Jennifer who put 33-year-old Karine Gonzalez, who has been diagnosed with macular degeneration, in contact with The Chicago Lighthouse. And it is her cousin Alexandria Garcia-Galvan who drives Karine to her appointments.
Sighted family members like Jennifer and Alexandria are a critical component in getting people who are visually impaired or blind the help they need. Thanks to her sister and cousin, Karine received an examination from Dr. Tracy Matchinski in our Low Vision Clinic and learned about some of the latest devices from Luke Scriven of the Adaptive Technology staff. Karine learned about a new Zoomtext device that will assist her with her job along with some phone enhancements and a 20/20 marker that enhances the lettering on documents.
"Everyone at the Lighthouse has been a little angel to Karine," said her sister Jennifer, who works as a sales representative for State Farm Insurance. "Since her visit, so many positive things have happened. You have given my sister a whole new lease on life!"
A graduate of Lexington College where she earned an associate's degree, Karine urges others coping with vision loss to never give up hope. "Keep pushing forward.  Don't feel that you alone because you're not. There are places like The Chicago Lighthouse to help you!"
Back to top