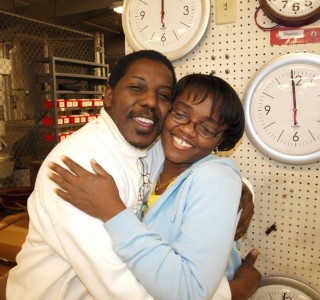 How Do People Who Are Blind Become Attracted to Someone and Find Love?
Feb. 11, 2016
A few years ago, a friend told me an anecdote I found both surprising and amusing. It took place during a wedding where the groom happened to be blind. One of the guests couldn't understand how someone who is blind could possibly fall in love with another person. "He can't see her after all," she reasoned. This story illustrates just how much we as a society are focused on physical appearances. It is certainly true that blind people use other factors to become attracted to others. However, this doesn't mean that we have a special or better way of getting into serious relationships or finding love. Still, just because we can't see doesn't mean that we're not influenced by today's visual culture.
Sighted people often say they found the love of their life after seeing someone for the first time. I always wonder (but don't dare ask) if they actually got to meet him or her in person. As someone who can't see, it is very important for me to really get to know the other person before making such an important decision. Instead of saying I found love at first sight, I could say I met love at first conversation. Like anyone else, those of us who are blind are attracted to someone's personality, interests, likes and dislikes, etc. I guess I could say that not being able to see almost forces us to focus on these things more than the average person. After all, it's the only way we have of getting to know someone!
Of course, this leads to another common stereotype about blindness and relationships: that we don't necessarily care about physical appearance. Nothing could be further from the truth! In fact, this is probably one of the misconceptions that I personally find the most annoying. We grew up with the same beauty standards and are exposed to the same culture and media, so naturally we are also influenced by the visual world to some extent.
In this article from the BBC, Damon Rose shares a story from when he was a student at a school for the blind. A new girl had recently started at that school, but went unnoticed for several weeks by her male classmates. When the boys found out she was blond, all of a sudden she began getting a lot of attention. Many of the boys had no clue of what "blonde" looked like, yet they immediately assumed she was good looking simply by knowing this fact. In another anecdote, Rose talks about an instance when a blind friend was going out with a girl he got along with quite well. Everything was perfectly fine until his brother told him – in Rose's words – that she looked "like a right dog." Needless to say, he immediately broke up with her after finding this out!
Just as with most aspects of our daily lives, those of us who are blind have other ways of becoming attracted to someone when looking to form a relationship or finding love. Although we can't physically see the person, we can learn a lot simply by talking and really getting to know them. Still, this doesn't mean that people who are blind don't have prejudices about physical appearances. In today's world, we're all influenced by our culture of physical attractiveness in one way or another, and being blind doesn't make us immune to this. Simply put, people who are blind find love and become attracted to others in the same way as individuals with sight. After all, the ultimate goal of building a relationship and finding love is to look for someone you are comfortable with regardless of whether or not you can see.
Happy Valentine's Day from Sandy's View and The Chicago Lighthouse! To get you in the holiday spirit, I invite you to watch this video about love in the workplace. Apparently The Chicago Lighthouse is an eHarmony of sorts!
Back to top