Commentary: Making Gyms Accessible Benefits Everyone
A few years ago, I attended a seminar about the Americans with Disabilities Act at my local Center for Independent Living in an effort to learn more about what this legislation does and does not cover. Much to my surprise, I learned more than I expected, including the fact that the ADA covers fitness facilities. Gyms, for example, should have accessible exercise equipment, including accessible swimming pools.
These regulations for making fitness facilities accessible to customers with disabilities went into effect in 2012. Still, much more needs to be done to implement said requirements. Recently, LA Fitness modified its membership policy to accommodate patrons with disabilities in New York who need aids to accompany them into the health clubs. The membership fee for these assistants will be waved, and the policy will also require New York LA Fitness locations to train their staff on such policies.
Contrary to popular belief, people with all types of disabilities can and do need to exercise just like everyone else. Disabilities set aside, we have the same need to exercise in order to maintain good fitness and health. It is even more important considering that people with disabilities are less likely to participate in any form of exercise plan. Combined with a high unemployment rate and – in some cases – isolation from the community or other social activities, the sedentary lifestyle of many people with disabilities can lead to poor fitness, obesity and health complications like hypertension and diabetes.
Making gyms accessible is not as hard as it might seem. Simply moving equipment around to give someone in a wheelchair enough room to transfer might be all a customer with a physical disability needs to be able to access the exercise equipment. Someone who is blind or has low vision might benefit from one-on-one, hands-on instruction from a personal trainer, and large print and Braille labels will allow him or her to operate exercise machines independently. By adopting policies similar to that of LA Fitness, those with disabilities who require someone's assistance will allow these individuals to partake in all the facility has to offer. To me, it is all a matter of finding creative, and often simple, accessibility solutions.
People with disabilities have the same right to exercise and be fit and healthy. Not only does working out help us obtain good health, but it also gives everyone a great opportunity to socialize and meet others. Gyms should create an accessible and welcoming environment for people with disabilities. By doing this, they will both comply with the law, and help an often overlooked community maintain good health and create more social opportunities. In what other ways can gyms be made more accessible and inclusive of people with disabilities? Please share your thoughts!
---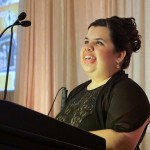 Sandy Murillo works at The Chicago Lighthouse, an organization serving the blind and visually impaired. She is the author of Sandy's View, a bi-weekly Lighthouse blog about blindness and low vision. The blog covers topics of interest to those living with blindness and vision impairments. Being a blind journalist and blogger herself, Sandy shares her unique perspective about ways to live and cope with vision loss.
Back to top