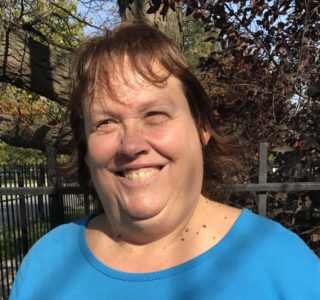 Meet Mary "Bell" Snyder
Singing, playing games, and rooting for the Chicago Cubs are just a few of the things Mary "Bell" Snyder enjoys.  But there's one thing she likes more than anything else:  The Chicago Lighthouse!
Born with congenital cataracts and nystagmus, Mary first learned about The Lighthouse and our Seniors Program through a friend's referral in April 2015. Since then, the Chicago native has made quite a splash in the program.  She's a people person so, naturally, she enjoys making new friends!
"I gotta tell you, the Seniors Program is such a great place to make friends and have fun.  Before, I had a lot of sighted friends, but nobody I could really relate to.  Since joining the program, I've met so many new people, both sighted and visually impaired who I can really connect with!"
Mary makes the trip to The Lighthouse to participate in the program from her home in Des Plaines three times a week, giving her a chance to stay active.
"I'd stay at home and watch TV.  That all changed when I got to The Lighthouse," she recalled.
Laurine Donohue, director of The Lighthouse's Seniors Program, stated that Mary is a real asset to the program.
"She is enthusiastic, always comes energized, and is never afraid to ring that bell! She often makes us laugh but is quick to be a friend when someone else might be going through a hard time."
These days, Mary is the happiest she's ever been!
"I love it here.  Absolutely love it.  the people, the atmosphere, the program…it truly did change my life."
As for the nickname "Bell," Mary decided to begin ringing a bell if her fellow seniors in the program got too loud.  It worked, and the nickname stuck!
To learn more about our Seniors Program, visit http://chicagolighthouse.org/program/seniors-program/