The Chicago Lighthouse is a CooperVision 2023 'BEST PRACTICE'
Mar 23rd, 2023

THE CHICAGO LIGHTHOUSE IS A COOPERVISION 2023 'BEST PRACTICE'
Leading contact lens manufacturer notes nonprofit agency's commitment to providing world-class vision care to marginalized communities.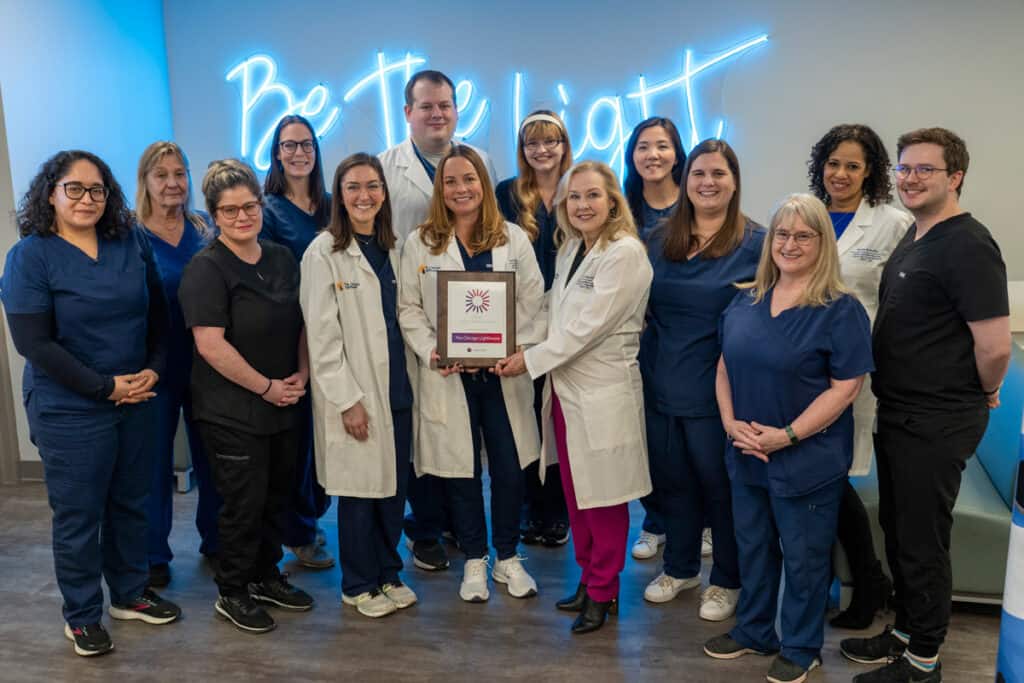 The Chicago Lighthouse, a 117-year-old nonprofit serving the blind, low-vision, disabled and Veteran communities is proud to announce it has been named one of CooperVision's "Best Practices" in 2023. The Lighthouse is one of only 80 optometric practices in the U.S. to receive the honor since CooperVision began its program in 2016.
"I am beyond thrilled that The Chicago Lighthouse's Low Vision Services, part of the Sandy and Rick Forsythe Center for Comprehensive Care, has been named one of CooperVision's Best Practices of 2023," said Dr. Kelly Scherer, Director of Clinical Services at The Chicago Lighthouse. "Everyone in our practice is dedicated to help patients understand that losing one's vision does not mean losing one's hope or independence. This honor recognizes all of the fantastic work every one of us accomplishes here every day."
The Lighthouse is one of 10 vision-care practices in the United States to receive the award, which honors eye care practices nationwide that advance the optometry profession through innovation, industry leadership, and providing excellent patient care. In making the award, CooperVision highlighted The Lighthouse's commitment to providing vision care and other services to marginalized populations whose low-vision needs are often overlooked.
The Best Practices award was presented to The Chicago Lighthouse's entire Low Vision Services Program, which includes nine low-vision residency trained optometrists, three occupational therapists, a psychologist, a counselor, a mobility specialist, an orientation leader, three assistive technology specialists and a five-person support staff, all of whom provide the highest level of care, eye care, rehabilitation and social support to patients.
"The team at The Chicago Lighthouse goes beyond eye care by discussing with patients the challenges they face in receiving equitable access to healthcare, education, and employment," said Dr. Michelle Andrews, Vice President, Professional and Government Affairs at CooperVision. "Through these efforts, the practice advocates not only for its patients, but the community at large."
---
About CooperVision
CooperVision, a division of CooperCompanies (NYSE:COO), is one of the world's leading manufacturers of soft contact lenses. The Company produces a full array of daily disposable, two-week and monthly contact lenses, all featuring advanced materials and optics. CooperVision has a strong heritage of solving the toughest vision challenges such as astigmatism, presbyopia and childhood myopia; and offers the most complete collection of spherical, toric and multifocal products available. Through a combination of innovative products and focused practitioner support, the company brings a refreshing perspective to the marketplace, creating real advantages for customers and wearers. For more information, visit www.coopervision.com.
About CooperCompanies
CooperCompanies ("Cooper") is a global medical device company publicly traded on the NYSE (NYSE:COO). Cooper operates through two business units, CooperVision and CooperSurgical. CooperVision brings a refreshing perspective on vision care with a commitment to developing a wide range of high-quality products for contact lens wearers and providing focused practitioner support. CooperSurgical is committed to advancing the health of women, babies and families with its diversified portfolio of products and services focusing on medical devices and fertility & genomics. Headquartered in San Ramon, Calif., Cooper has a workforce of more than 12,000 with products sold in over 100 countries. For more information, please visit www.coopercos.com.
Back to top