The Chicago Lighthouse Honors Forsythe Family With Building Name
Jun 26th, 2023
The new Forsythe Pavilion at 1850 W. Roosevelt Road
CHICAGO (June 15, 2023) – The Chicago Lighthouse, a 117-year-old nonprofit providing services to people who are blind, visually impaired, disabled and Veterans, is proud to announce the naming of its building in honor of Sandy and Rick Forsythe and their contributions to low vision research and rehabilitation in Chicago and around the country.
"It is almost certain that no family has done more to advance the diagnosis and treatment of low vision than the Forsythes," said Janet P. Szlyk, Ph.D., President and CEO of The Chicago Lighthouse. "Their generosity has supported several of our programs, including the Forsythe Center for Comprehensive Vision Care, the Forsythe Entrepreneurship Center and the Sandy Forsythe Center for Assistive Technology at our Glenview location. We will be forever grateful to them for their tireless support and commitment to making the world better for those with vision impairments."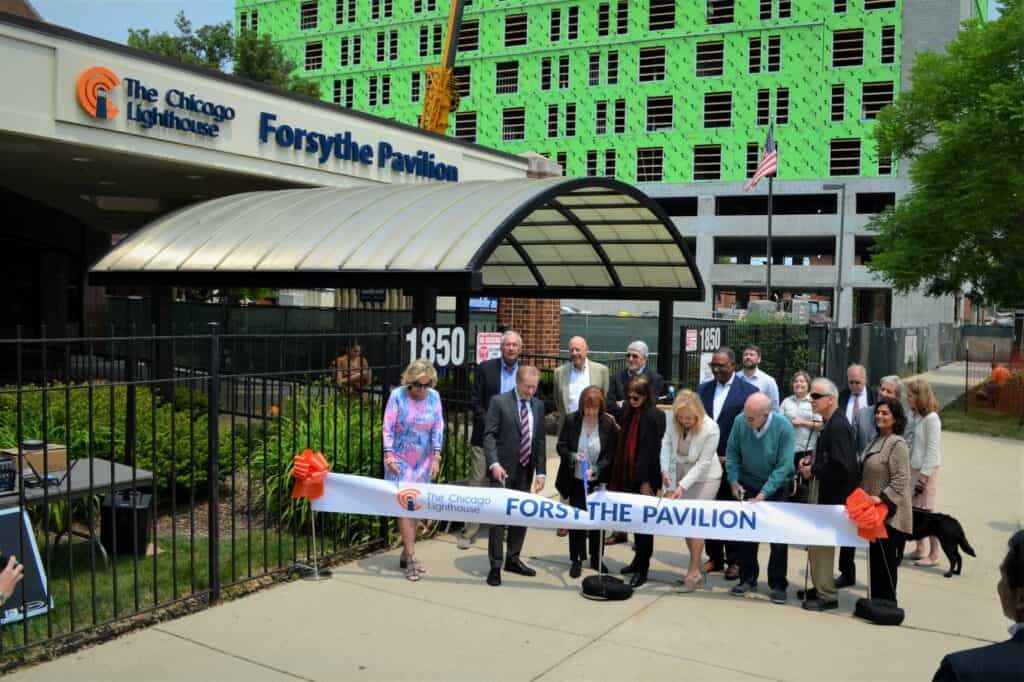 Sandy Forsythe (third from left) and members of The Chicago Lighthouse board celebrate the renaming of its building as the Forsythe Pavilion. First row (left to right): Sheree Schimmer, Chicago Lighthouse Board Chair Dr. Thomas Deutsch; Sandy Forsythe, Chicago Lighthouse Board Vice Chair Julie Stark, Chicago Lighthouse President and CEO Janet Szlyk, Ph.D., Marv Lader, Paul Rink, Beena Joseph. Second row (l. to r.): Immediate Past Board Chairman Robert Clarke, Ed Jepson; Gary Rich; Richard Boykin. Back row (l. to r.: Chicago Lighthouse Employees Jim Neitzel, Maureen Reid, Greg Polman and Colleen Wunderlich.
The new "Forsythe Pavilion" is located at 1850 W. Roosevelt Road and will be home to many of The Chicago Lighthouse's 40 programs and services, including low vision diagnosis and rehabilitation, a special education Children's Development Center, an employment services program and several social business enterprises that employ people with disabilities and Veterans.
In addition to providing financial support to The Chicago Lighthouse, the Forsythe family has been deeply involved with the organization for more than 20 years. Rick Forsythe was a patient of The Lighthouse's low vision clinic, and Sandy has served on the board for more than 20 years. In April 2022, shortly before Rick's passing, the Forsythes made a significant contribution to The Lighthouse's "Envision the Future" endowment campaign, helping ensure the organization's programs and services will be available for years to come.
For more information contact: Aaron Baar, Senior Director of Advancement at The Chicago Lighthouse, 312-997-3662 or aaron.baar@chicagolighthouse.org.
Back to top