Chicago Lighthouse Celebrates Groundbreaking New Project
Nov 17th, 2022
For Immediate Release
CHICAGO LIGHTHOUSE CELEBRATES GROUNDBREAKING NEW PROJECT
The Foglia Residences at The Chicago Lighthouse will offer 76 residential units designed with an accessibility-first mindset.
CHICAGO (August 25, 2022) – The Chicago Lighthouse and Brinshore Development launched a new era of accessibility in the City of Chicago, breaking ground on a new residential building that will provide safe, affordable, accessible housing for people with disabilities, Veterans, and those with below-median incomes.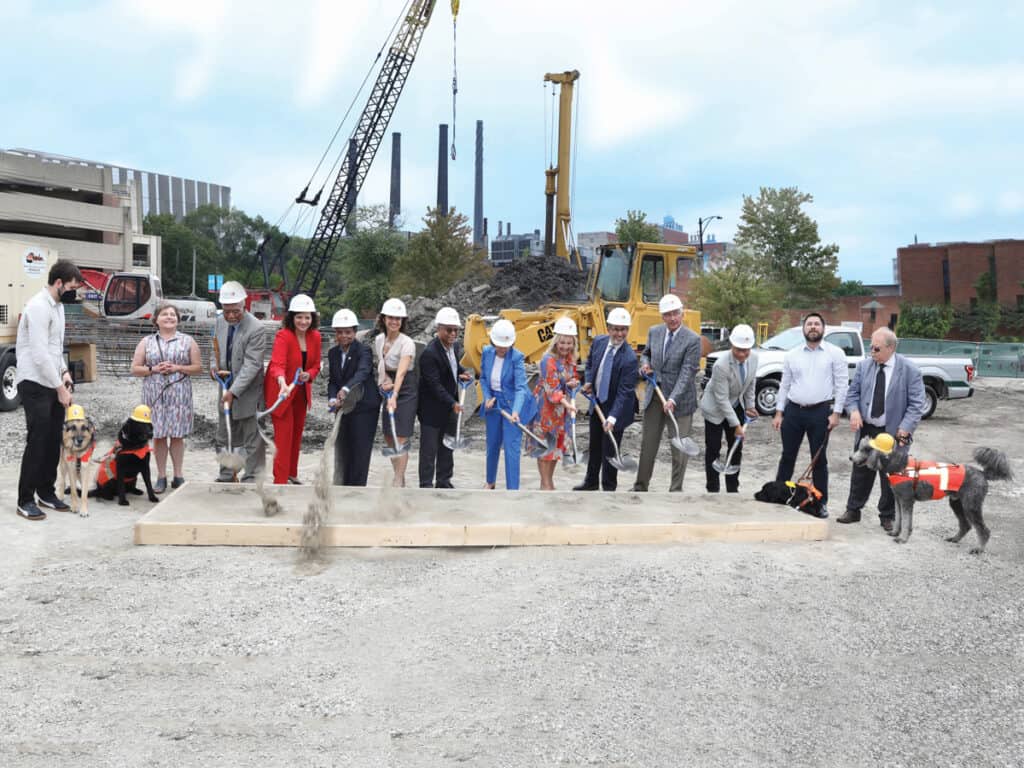 "For 116 years, The Chicago Lighthouse has been an invaluable resource for people who are blind, visually impaired, disabled, and Veterans," said Dr. Janet P. Szlyk, President and CEO of The Chicago Lighthouse. "Our Programs providing education, low vision diagnosis and rehabilitation, assistive technology, and employment opportunities have helped countless individuals build confidence and independence. This new venture is an exciting step toward addressing our community's growing need for safe, affordable, and accessible housing."
The Foglia Residences is the first residential project directed at people who are blind or visually impaired to be financed through Low Income Housing Tax Credits in the United States. With a Spring 2024 expected opening, The Foglia Residences will be an income-qualifying development offering 76 studio, one-, and two-bedroom apartments for individuals and families. Leasing emphasis will be given to people who are blind, visually impaired, disabled, and Veterans, as individuals from these populations experience housing insecurity at higher rates than the general population.
According to the United States Interagency Council on Disabilities, nearly one-quarter of individuals who experience homelessness on any given day are people with disabilities.[1] In addition, just over 9% of people experiencing homelessness are Veterans.[2] In addition to featuring state-of-the art amenities to enable people with disabilities to live independently, the building will also include a roof deck, a spacious community room, an exercise/fitness room on the main floor and ground-level retail space. A management office will be located on-site.
"Every resident, including those with disabilities, deserves to have access to affordable, safe and accessible housing," said Chicago Mayor Lori E. Lightfoot. "The Foglia Residences will not only provide this housing, but also empower residents to live independently in our communities and obtain upward mobility. I thank the Chicago Lighthouse team for their continued advocacy, service and commitment to our residents and look forward to the completion of this incredible project."
LBBA served as the architect on the project, and Designs 4 Dignity assisted with design. Features throughout the building will take an accessibility-first approach, integrating elements such as reflective colors, tactile and high-contrast wallpaper and flooring, and Braille on signage and in common areas. The Foglia Residences is expected to be open to residents in Spring 2024. McShane Construction Company and Ashlaur Construction, are general contractors for the building.
"It's important for people with visual impairments to have autonomy and access to opportunities in safe neighborhoods near employment options," said David Brint, Principal at Brinshore Development. "Our hope is that Chicago is the first of many cities to welcome this type of innovative and affordable housing for one of society's most vulnerable populations."
Images and other materials can be found in our Electronic Press Kit 
About The Chicago Lighthouse
Serving the blind, visually impaired, disabled, and Veteran communities through innovative education, rehabilitation, employment, assistive technology, and other programs, The Chicago Lighthouse is one of the nation's most comprehensive social service organizations. For additional information, visit www.chicagolighthouse.org.
[1] "Homelessness in America: Focus on Chronic Homelessness Among People with Disabilities," United States Interagency Council on Homelessness, August 2018.
[2] "Homelessness in America: Focus on Veterans," United States Interagency Council on Homelessness, June 2018.
Back to top