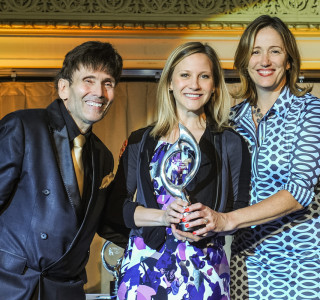 Lighthouse Wins Two Coveted Trumpet Awards
The Chicago Lighthouse has won two prestigious 2016 Trumpet Awards from the Publicity Club of Chicago (PCC).
The awards, which salute outstanding work in communications and public relations from throughout the Midwest, were given for our annual report and website.
They were presented during PCC's 57th Annual Golden Trumpet Dinner at the Palmer House Hotel on June 2nd.
The annual report, "Chicago Lighthouse: a Community of Care," won a Gold while our new website took a Silver.
Contributing to the effort (left to right) were Senior VP of PR Dominic Calabrese, Business Development Manager Rana Marks and Creative Director Lisa Birmingham.
Since 2004, The Lighthouse's public relations department has won eight Gold and four Silver Trumpets.
Back to top