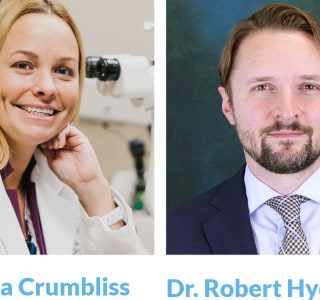 The Chicago Lighthouse and UIC Form the Pangere Center Partnership
Through an exciting new partnership, The Chicago Lighthouse and the University of Illinois at Chicago (UIC) Department of Ophthalmology and Visual Sciences have formed the Pangere Center Partnership. This collaboration between two world-renowned institutions will continue to offer specialized and seamless care of various inherited retinal diseases, in addition to a full range of low vision care including vision rehabilitation, psychological counseling, orientation and mobility training, assistive technology, optical services, and low vision research.
After a lifetime of service and ten years with The Pangere Center, Dr. Gerald Fishman retired in August. His incredible leadership and dedication helped to advance The Lighthouse's legacy of being a world-renowned center for inherited retinal diseases. The Lighthouse will continue his commitment to those impacted by inherited retinal diseases.
At the new Pangere Center Partnership, Dr. Kara Crumbliss, The Chicago Lighthouse's Vice President of Low Vision Services, will oversee comprehensive vision care services, while Dr. Robert Hyde, an ophthalmologist at the UIC Department of Ophthalmology and Visual Sciences will provide specialized inherited retinal disease care.
Two world-class services separated by a city block, The Pangere Center Partnership will provide patients with exceptional, coordinated care that enables individuals to live full, independent lives despite an inherited retinal disease diagnosis.
Back to top