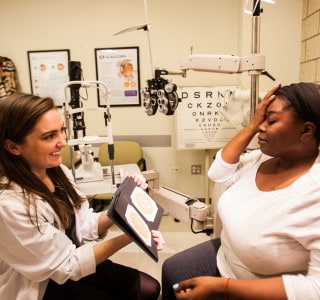 Crucial Low Vision Services Offered through Telehealth
As we navigate the conditions surrounding the current Coronavirus outbreak, it is important for us to continue to stay connected with and serve our clients while maintaining the health and safety of everyone. While our Low Vision Clinic and its network of satellite clinics remain closed, we are providing a limited set of crucial low vision services through telehealth.
Currently, our optometry, occupational therapy, and psychological services are offering remote virtual care visits. The nature of these visits is limited and are not intended to replace in-person visits, which will resume once it is safe.
"Our patients' health is of the utmost importance to us," said Lighthouse President and CEO Dr. Janet Szlyk. "Though virtual care visits cannot replicate the thorough examinations and services we can provide in-person, we are available to answer questions or perform brief diagnostics for patients, while still remaining at a safe social distance."
Virtual care services can be provided through a text-based web portal, voice communication via telephone, or audio and visual consultations using a smartphone or computer. Medicare and most large insurance companies have indicated they will cover virtual visits during this public health crisis, but clients are advised to check with their providers to ensure coverage. For more information or to schedule an appointment, please call 312-997-3686 during normal business hours.