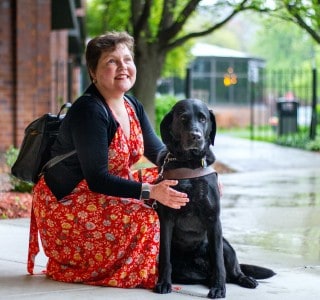 #YesWeCount: Why the 2020 Census is so critical for People with Disabilities and Veterans
Being counted by participating in the 2020 Census is critical for individuals with disabilities and Veterans, as accurate Census data determine how federal funds are allocated. If these communities are undercounted, organizations such as The Chicago Lighthouse could lose federal funding needed to support programs such healthcare, public accessibility, education and early childhood development.
"Many Veterans and people with disabilities rely heavily on government programs to participate in elements of society that others take for granted," says Martha Younger-White, Senior Vice President of Employment and Rehabilitation Services at The Chicago Lighthouse. "Historically, getting an accurate count has been a challenge because people with disabilities and Veterans often encounter obstacles that limit their participation."
In order to ensure these communities are counted, The Lighthouse is now offering a hotline that individuals can call to receive help for completing the Census. Bilingual services are also available. Please call (312) 447-3251 to receive assistance.
This year's Census may be taken online through an online accessible form, or via mail or telephone. The deadline to complete it has been extended to August 14; however enumerators will begin non-response follow-up beginning May 28. To learn more, visit http://2020census.gov/.
We hope you will participate in the Census during this critical time. If you have any friends, family, or neighbors with disabilities or who are Veterans, please share this information and encourage them to participate and be counted!