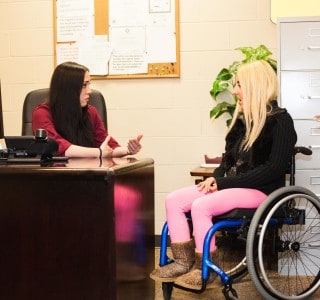 Myths vs. Facts on Disability Employment
People with disabilities are currently an underutilized labor pool in the U.S., and this is largely credited to misconceptions employers have about hiring members of this community. Can you tell the difference between facts and myths on disability employment? Find out by taking the quiz below!
Fact or Myth?  Providing accommodations for workers with disabilities is expensive.
MYTH!  A reasonable accommodation is any modification or adjustment to a job or the work environment that will allow a qualified applicant or employee with a disability to participate in the application process or to perform essential job functions.  Most workers with disabilities require no special accommodations and the cost for those who do is minimal or much lower than many employers believe. According to the Job Accommodation Network, 56% of employers reported that job accommodations cost absolutely nothing to make, while the rest typically cost only $500 or less.
Fact or Myth?  Studies have shown that people with disabilities perform comparably to their peers without disabilities.
FACT!  In fact, studies show that in many cases people with disabilities perform above expectations.  A 2002 survey of 255 supervisors of employees with disabilities found that supervisors are satisfied with the overall work performance and productivity of workers with disabilities and that workers with disabilities perform as well as or better than their nondisabled co-workers.
Fact or Myth? Employees with disabilities bring many skills and talents to the workplace.
FACT! People with disabilities bring a wide variety of skills to the workplace, such as creative thinking, problem-solving and collaboration to name a few.   People with disabilities contribute to an organization's success by bringing unique perspectives and experiences to the workplace.
Fact or Myth?  Employing persons with disabilities will impact business costs such as insurance rates.
MYTH!  Insurance rates do not increase when you hire a person with a disability.   Insurance statistics have shown that workers with disabilities actually have fewer on-the-job accidents than their non-disabled peers. A study conducted by the U.S. Chamber of Commerce and the National Association of Manufacturers showed that 90% of the 279 companies surveyed reported no effect on insurance costs as a result of hiring workers with disabilities.
For more information and resources on hiring individuals with disabilities, please contact Employment Services Program at (312) 997-3657.
Back to top