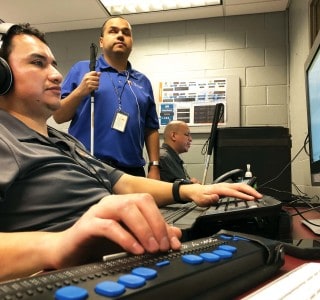 Using Their Passion to Make the World More Accessible, and The Supreme Court Seems to Agree!
On October 7, 2019, The Supreme Court took a dramatic action favoring people with disabilities. It declined to hear an appeal of Domino's Pizza v. Robles. In Domino's Pizza v. Robles, the Ninth Circuit Court ruled that websites and apps must be accessible for people who are blind or visually impaired under the Americans with Disabilities Act. In fact, lawsuits seeking to make websites accessible for people with disabilities under the ADA are becoming more common. This makes accessibility consulting businesses even more relevant and timely.
Meet Jose Martinez, Geovanni Bahena and Juan Gonzalez. All three individuals are legally blind, and have found their calling at The Lighthouse thanks to their passion for technology. They are a dynamic trio working on The Lighthouse's new accessibility consulting project. With this initiative, The Chicago Lighthouse will offer accessibility consulting to other businesses and help them make sure their websites meet global accessibility standards.
Jose, Geovanni and Juan all began working at The Lighthouse as customer service representatives in the UI Health Customer Care Center. This was their first job after graduating from school, and it offered an opportunity for independence and self-sufficiency.
Jose, who is totally blind, has been working as an I.T. specialist at The Lighthouse for over two years. His day-to-day tasks include setting up computer systems for new employees, managing the Help Desk system where Lighthouse staff call in or send their technology questions, and troubleshooting any technical difficulties.
Recently, Geovanni and Juan joined the I.T. team to train under Jose. Given their extensive knowledge of technology, Jose, Geovanni and Juan are spearheading the Lighthouse's accessibility consulting program. Throughout the last two months, Geovanni and Juan underwent extensive training on the various global website accessibility guidelines. They all agree that this new endeavor is an exciting challenge that they have greatly enjoyed.
For Jose, Geovanni and Juan, working at The Lighthouse's customer care centers meant obtaining critical knowledge that is helping them launch and succeed in their technology careers. As Jose points out, having good customer service skills is also important when working in Information Technology. Good listening and problem solving skills are critical for successfully tackling difficulties with technology. All three of them agree that for people with disabilities, technology has been a game changer.
"Technology is the reason why I even have a job. It's the reason why I get up in the morning and live my life like any other person who doesn't have a disability," Jose says.
Jose, Geovanni and Juan hope to make the worldwide web more accessible to others with disabilities. They also believe it is important for employers to give people with disabilities a chance and get rid of any misconceptions. By doing this, the world will be a more inclusive place for everyone.
To learn more, contact: Ricardo Vilchez, Vice President of Information Technology