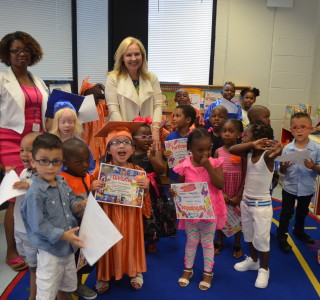 Lighthouse Preschool Holds Graduation
With a theme of "I am ready," The Chicago Lighthouse's Judy and Ray McCaskey Preschool held its third graduation ceremony on June 30th.
Nine children received diplomas while the rest were given certificates for completing the first year of the program.
The festive event attracted nearly 30 family members and friends who posed for photos with the youngsters and enjoyed pizza and a special cake.
Former Lighthouse President Jim Kesteloot served as guest speaker.  He saluted the students on their achievement and encouraged them to pursue their dreams.  He also praised the parents for their love and support.  In addition, Mr. Kesteloot acknowledged the efforts of Principal Lee Burklund and her team for providing a top-notch educational experience for the children.  He further commended his successor, current President & CEO Dr. Janet Szlyk, for her leadership in developing the blended preschool into a national model.