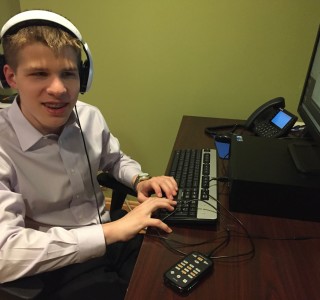 First Jobs Program: Week 3
July 1, 2016 | Jack Falejczyk
Hello! My name is Jack. I'm 15 years old and am going into my junior year at Elk Grove High School. I have a retinal degenerative disease called Leber Congenital Amaurosis and have been totally blind since birth. But I have not let that stop me from doing anything. I have perfect pitch, so I am very much involved in music. I play piano and violin and I sing in choir. I swim on the swim team. I am also proficient with all sorts of technology. In school, I learn through the same education curriculum as everyone else, just in a different way. I use technology devices in school, work and on the go. I use a talking screen reader on the PC computer called NVDA and Voiceover on the Mac. I can use both iPhone and Android. I have a talking book player called the Victor Reader Stream, I am the proud owner of a revolutionary braille tablet called the Braillenote Touch, and so much more! Through all of this, I do everything that anyone else can do.
I first got involved with The Chicago Lighthouse by competing in the Braille Challenge when I was seven years old. My history with Shelle Hamer, however, goes way back to when I was six months old! I've known her as the head of the Northwest Suburban Special Education Organization, which assigned vision, mobility and daily living teachers to work with me. And now she runs Chicago Lighthouse North programs for children and teens. I am involved in the First Jobs program, designed and facilitated by Shelle. My current vision teacher learned of the program, and when she told me about it, it struck my interest. I knew I needed interviewing and work experience in the real world, and this was the perfect opportunity. With that, I took the opportunity, and am glad I did. Through this program, I got exactly what I needed, work experience in the real world.
Through the first jobs program, I interned with the PR team at Lighthouse North and got to really dig into my communication skills. In just two weeks, my interview and writing skills have improved. I feel that a program like this is a must for anyone and everyone seeking employment. It is important that people learn the skills taught in this program, some of which may not be taught in other employment programs offered through school districts.
I hope to pursue a career in software development. I would love to develop accessible games and software for the visually impaired, but am open to software development in any area. Even though my internship wasn't in software development, I can still take the valuable experience with me to my future career. I could use my writing experience from this position to help write manuals and articles for anywhere I work in the future.
While I have no problem being blind, I do fight for a cure for blind diseases. In 2012 and 2013, I was the youth co-chair for the Chicago Vision Walk. I have been walking in the vision walk since 2010 and am still involved. So, I will keep living this life as a person who is visually impaired, knowing that somewhere down the road, there'll be a cure. Even so, the satisfaction of success is what drives me to keep on going.
— Jack
---
Learn more about the First Jobs Program offered through our Teen Transitions Program.