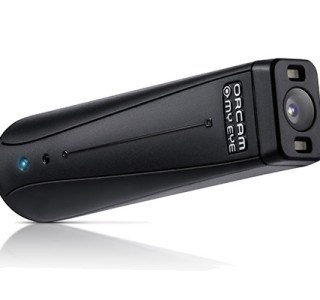 Lighthouse Offers Game-Changing OrCam MyEye 2.0 Device to Help with Daily Living
Individuals coping with vision loss will find it much easier to cope with daily living, thanks to an innovative new camera device available at The Chicago Lighthouse's Tools for Living Store.
Small in size but powerful in impact, the portable OrCam MyEye 2.0 enables the bearer to read text copy, identify colors, see people's faces and perform other daily tasks.
Available in a rectangular shape, MyEye 2.0 is magnetized and can be easily attached on the right or left side of a pair of glasses.
"It is portable and so easy to use," notes Luke Scriven, assistive technology manager at The Lighthouse. "In fact, it is amazing that OrCam has packed so much technology into such a small package. They are leading the way in optical character recognition devices at the moment, and I'm really excited to see how far they can push their technology."
Luke explains that the device works by simply pointing in the direction of what you want to read, then listening as it's read out loud. To stop the reading, you can simply hold out your hand in a stop gesture.
"We are thrilled to be able to offer this amazing product to our customers experiencing vision loss," Luke says, adding that anyone who is interested is welcome to make an appointment for a hands-on demonstration by calling
312-997-3649 or emailing luke.scriven@chicagolighthouse.org.
Click here to view to a video featuring comments and a virtual demonstration from Luke about MyEye 2.0.
###
Back to top