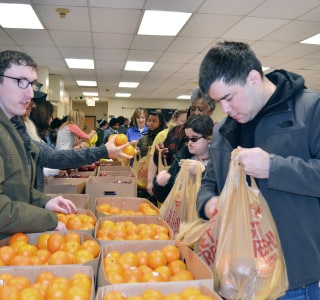 Giving Back to the Community: An Inclusive Holiday Tradition!
The support we have received from the Chicago community has been an integral part of The Chicago Lighthouse since its beginning in 1906. From our generous donors who donate to our programs serving people with disabilities and Veterans, to volunteers who dedicate their time, The Lighthouse has been able to thrive thanks to this support. To show our appreciation, Lighthouse staff and clients give back to others in various ways during the holidays. Donating to toy drives and helping bag food for those in need are just some of the ways in which we give back.
Each December right before the holidays, Lighthouse staff members with and without disabilities and their families gather at the Fellowship Missionary Baptist Church in Chicago's South Side to help pack and distribute food. Hosted and organized by Chicago Lighthouse Board Member Bruce Hague and his family, this annual food drive donates food to church and community members. Approximately 60 Lighthouse staff members and their families gather at the church in this annual event, which has become a tradition of sorts.
For people with disabilities, giving back is a way to say thank you for all the support The Lighthouse receives year-round. Just like anyone else, people with disabilities enjoy the special and rewarding feeling of giving back to others during the holidays. Giving back also allows Lighthouse staff and clients to reflect on all the support our programs and services have received over the years to help people with visual impairments or other disabilities.