Living "In Parallel" With Blindness
For Ben Chargot, Team Lead in our UI Health Call Center, being blind isn't a hardship or a source of inspiration. It's just a part of his life. "I've had hurdles to overcome. But in the end, everyone's got their burdens to bear."
As he reflects upon his life, Ben doesn't believe any of his accomplishments happened "in spite" of his blindness. Rather, he says they occurred "in parallel."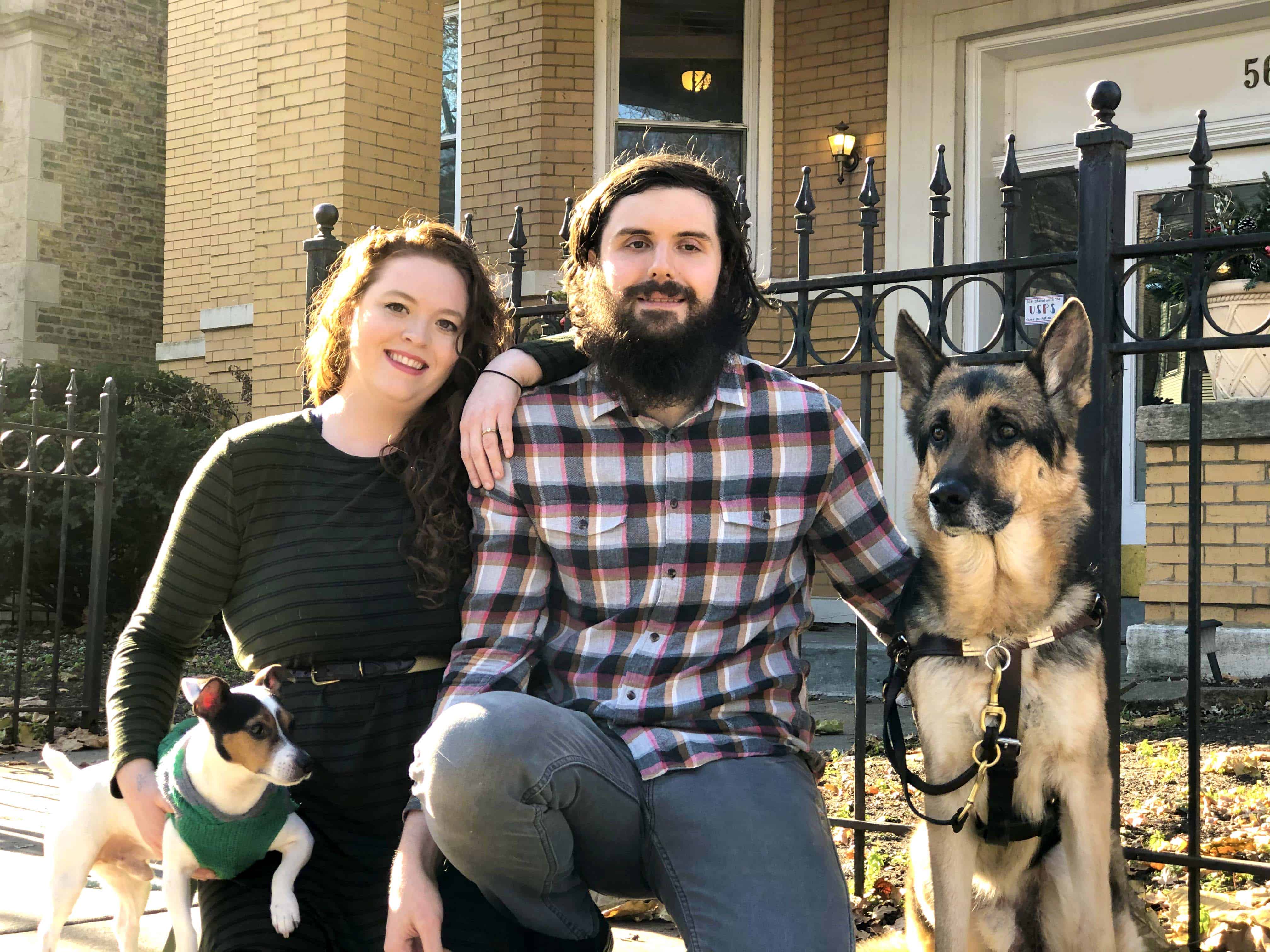 Ben, his wife Martha, and their dogs, Louis and Sammie, are settling into their new home.
Ben was born with Leber Congenital Amaurosis, a rare genetic eye disorder that affects the retina. Growing up in a small town in Michigan, he rarely encountered others who were blind. Now, at The Lighthouse, not only does he meet people who are blind every day, he also leads a team of 14 people who all have some degree of vision impairment. "I'm able to help them with anything from technical problems to finding navigation routes within the building. I'm in a unique position to help other people who are blind because I understand their experiences," Ben says.
First hired as an agent in The Chicago Lighthouse's UI Health Call Center in 2019, Ben's work ethic and strong communication skills caught the attention of his supervisors. They quickly promoted him to Team Lead within the Call Center.
"I hope I'm paving the way for more people who are blind to 'climb the company ladder.' I'm focused on my career here and how I can move forward," Ben says.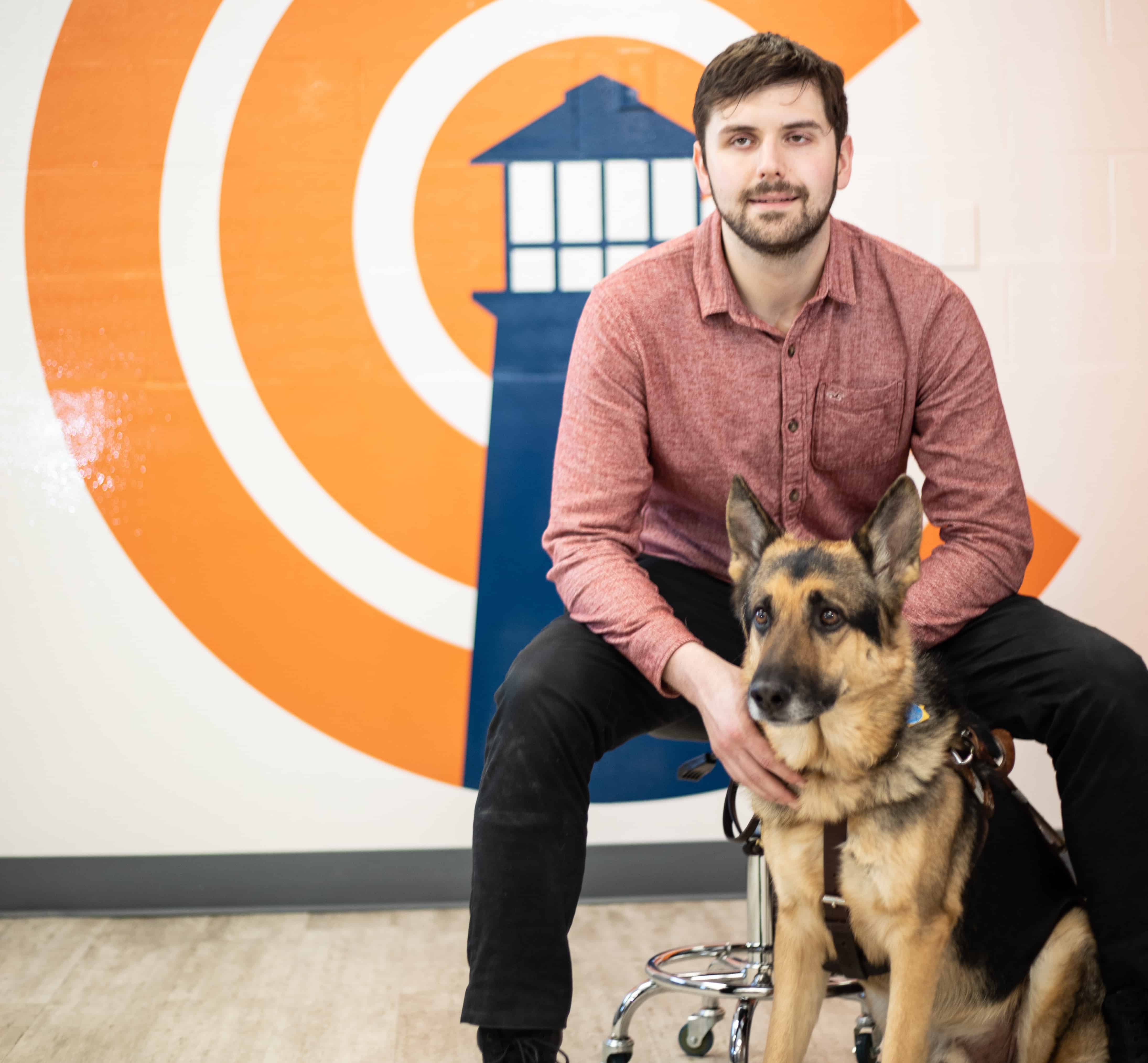 Ben has risen through the ranks at The Lighthouse and was recently promoted to UI Health Team Lead. His supervisor notes how he tackles every challenge that comes his way with a positive outlook.
In the early days of the COVID-19 pandemic, Ben developed a newfound appreciation for both his job and The Chicago Lighthouse. As the spring lockdown began, Ben and his wife were in the process of buying a home. Thanks to the efforts of The Lighthouse's IT team, Ben was able to transition to working from home, maintaining a steady income to support the purchase. "We wouldn't have been able to buy our home if I hadn't been able to keep my position," he says. Now, Ben, his wife Martha, and their dogs, Sammie and Louie, are keeping busy with home improvements and pursuing one of their favorite hobbies, cooking.
Prior to coming to Chicago, Ben attended college in St. Paul, Minnesota, where he studied percussion performance and music business. In contrast to his small-town upbringing, city life opened up a world of independence. He could venture throughout the city on his own using public transportation. That experience gave him the motivation to move to Chicago, where he reunited with his high school bandmates. They continue to write music and perform together.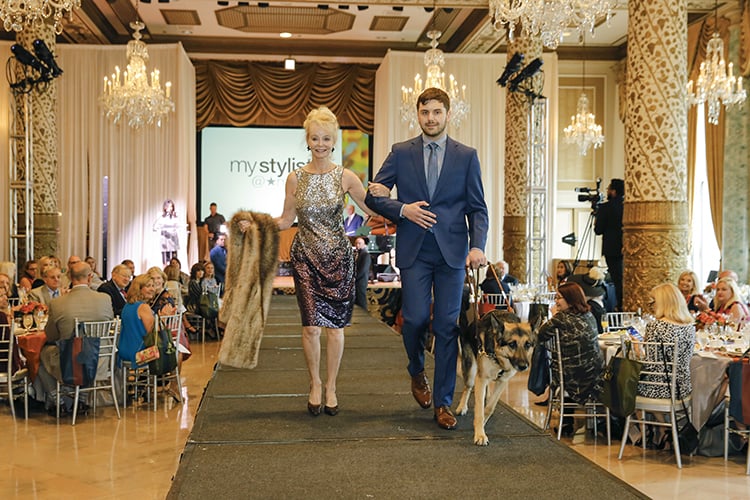 Ben is a team player always willing to help out, as shown here when he volunteered to model for our FLAIR fashion show fundraiser benefiting our Children's Programs. He is shown here, with his guide dog Sammie, escorting Service Club of Chicago Member Jamie Thorsen down the runway.
Ben is now utilizing his creative passions and talents to develop a podcast— produced in our fully-accessible Media Center—which he hopes will dispel myths and stigmas people may have about blindness and will become a voice of empowerment for the blind community.
"It's important to have an outlet for these issues. I'm hoping the podcast brings the blind and sighted worlds together more while providing entertainment along the way," he says.
Back to top