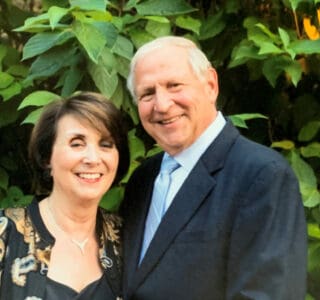 A Commitment That Lasts Beyond a Lifetime
For Steve Adelman, the decision to include The Chicago Lighthouse in his estate plan was an easy one. "I understand the importance of providing financially for your family, but it's important to fund the causes that are important to you as well," Steve says, adding: "If you supported a charitable organization when you were alive, it only makes sense to help it continue its incredible work after you're gone."
A former partner at Locke Lord LLP in Chicago, Steve first started working with The Lighthouse in 1976 to consult on a labor and employment issue. Several years thereafter, he became the organization's corporate counsel. As The Lighthouse grew as both a social service organization and social enterprise business, Steve advised on human resources, employment, and other areas. Steve and his wife Pam had included The Lighthouse as one of the most substantial charitable bequests in their estate plan for many years, but when he retired from practicing law in May 2020, they chose to increase their contribution to further ensure our ability to help future generations.
"The Lighthouse has always been far more than a client to me," Steve says. "It was and is near and dear to my heart well beyond my role as legal counsel."
Though his father lived with low vision, Steve was unacquainted with The Lighthouse prior to becoming a consultant here in the 70s. He was immediately impressed with The Lighthouse's dedication to helping people who are blind or visually impaired achieve their highest potential.
"Everyone that I worked with at The Lighthouse always appeared to be deeply connected to the clients," Steve says. "They have always been at the forefront of finding ways to help people who are blind or visually impaired be more independent."
Throughout Steve's time working with The Lighthouse, the agency's focus on our mission of helping people who are blind or visually impaired build confidence has never faltered. From providing employees who are blind or visually impaired with fair wages and comprehensive benefits to developing programs that help people with disabilities live independently, The Lighthouse has repeatedly demonstrated that it is an organization with a vision. It's a vision that has impressed Steve for over 40 years.
"People at The Lighthouse are always looking to the future, even as they are working in the present," Steve says. "In a way, that's what estate planning is as well."
"If you supported a charitable organization when you were alive, it only makes sense to help it continue its incredible work after you're gone."
—Steve Adelman
If you are interested in including The Chicago Lighthouse in your estate plan, please contact:
Jen Miller, Chief Development Officer, at
(312) 997-3643 or Email
Back to top