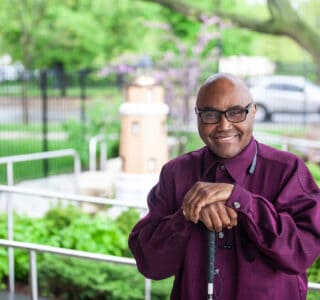 Light on the Other End of the Line
For Anne, that first call to The Chicago Lighthouse was the most difficult she had ever made. As a Senior diagnosed with macular degeneration, Anne had no idea what awaited her. Would she be told there was no hope? Would she have to give up her favorite activities?
"I was not happy about my condition. In fact, I was scared to death," says Anne.
At The Chicago Lighthouse, we understand that fear, which is why we have people like Joseph working in our Low Vision Call Center. Joseph, who has low vision himself, knew exactly how Anne felt. Responding with empathy and encouragement, Joseph helped Anne understand that her happiness was not tied to her eyesight.
"I find that's what people need," says Joseph. "If you have somebody encouraging you and telling you something can be done, like you have at The Lighthouse, it makes you believe you can do it. That's the greatest thing about my job, giving people hope."
Through several calls before her appointment, Joseph's calm counsel helped Anne stay positive. Joseph addressed all of her questions and concerns, and explained the numerous services The Lighthouse offered, including psychological counseling and assistive technology training. On the day of her appointment, Anne made a point of meeting her new friend in person.
The second she saw Joseph coming toward her with his white cane, Anne immediately knew she could manage the challenge of vision loss. "I saw that he had confidence in himself—and I knew I, too, could have that confidence and learn to live with the vision I have left," Anne says.
As Anne continues to manage her future with vision loss, she is thankful that Joseph will continue to be there to offer support and hopes she can do the same for others.
"He is a wonderful, wonderful man. I will never forget him," Anne says. "He inspired me, and I want to help others. And I am so glad The Lighthouse is there to help me as well with moving forward in my life. Calling The Lighthouse was the hardest call I ever made, but also by far the best!"
Back to top