The Foglia Residences
at The Chicago Lighthouse
The Foglia Residences at The Chicago Lighthouse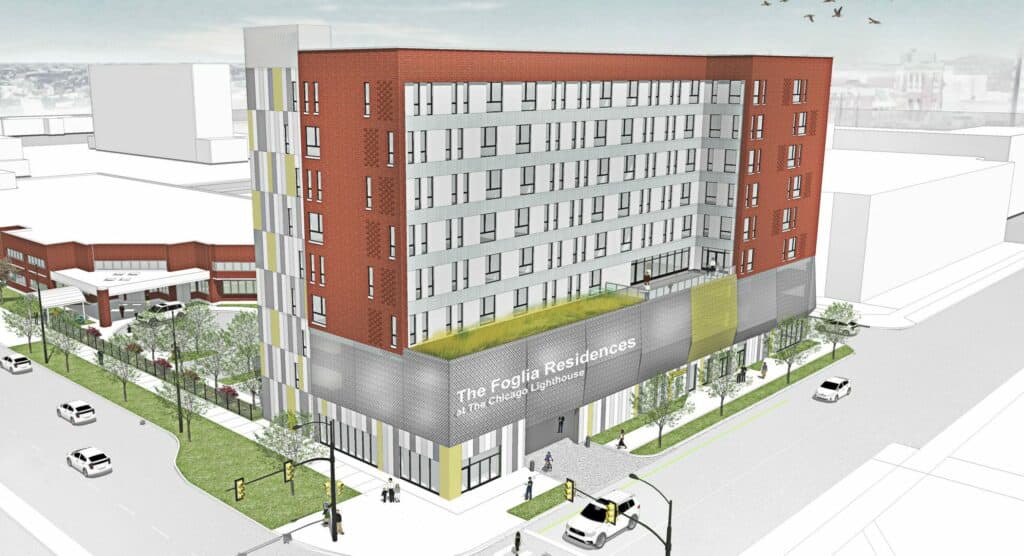 Construction is nearly halfway complete!!

In Summer 2022, The Chicago Lighthouse and Brinshore Development, LLC launched a new era of accessibility for Chicagoland's disability community. The Foglia Residences at The Chicago Lighthouse will provide 76 studio, one-bedroom and two-bedroom apartments for people with low-incomes and moderate-incomes who are blind, visually impaired, Veterans or have other disabilities. The Foglia Residences will help provide safe, affordable, accessible housing to facilitate independent living for these vulnerable communities.
As of September 2023, the project is approximately 50% complete and is scheduled to open in July 2024. The Foglia Residences' units and common areas will be accessible and feature state-of-the-art adaptive features including high-contrast paint and wallpaper, diverse flooring textures to designate areas and rooms, and voice-controlled capabilities incorporated at the design stage. The building will also include a roof deck, a spacious community room, fitness facilities and ground-level retail space that will provide employment opportunities for people with disabilities.
The Foglia Residences is the first project in the United States to be financed through low-income housing tax credits (LIHTC) designed specifically to accommodate people who are blind or visually impaired. It is a critical component of the Illinois Medical District's community redevelopment initiative.
Read other Foglia Residence FAQs here.
View Photos of the construction here.
For more information about The Foglia Residences at The Chicago Lighthouse (including notification of the beginning of residency applications), please sign-up for our e-mail newsletter.
Location and Contact
The Chicago Lighthouse provides education, employment, independent-living, and specialized services for people who are blind, visually impaired, disabled and Veterans throughout Chicagoland. Contact us today to learn more at (312) 666-1331.
Back to top