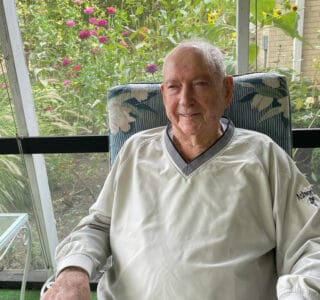 Spotlight on a happy One-Hundred year old patient & donor!
Bill recently turned one hundred years old and has no plans to slow down. "In fact," he says proudly, "my father was the oldest practicing lawyer who graduated from John Marshall Law School. My father lived to be 96 and had macular degeneration. He said that he did not like the taste of 'retirement,' so he kept on working!"
Bill's career was in construction where he built houses on the North Shore, including every home on the street where he has lived for the past 60 years. He first encountered eye issues about 30 years ago, when he lost vision in one eye and later developed macular degeneration in the other.
"Luckily, I have been blessed with outstanding eye doctors since I began having eye troubles. I have been seeing Dr. Kara Crumbliss, at The Lighthouse's Low Vision Clinic, for a while. She recommends the right assistive technology, for example, so I can work in my home office," Bill shares.
"To that end, I am proud to give back to The Lighthouse. Jen [Miller,Chief Development Officer] keeps me up to date at all of the wonderful things that are going on there. If I have any questions, I call Jennifer and she helps me with whatever I need! Thanks to the fantastic support I have found at The Lighthouse, I have tried not to let my vision problems stand in the way of my living life to the fullest extent possible!" Bill says with a delighted smile.
"Thanks to the support I have received at The Lighthouse, I have not let my vision problems stand in the way of my living my life to the fullest extent possible."
Back to top