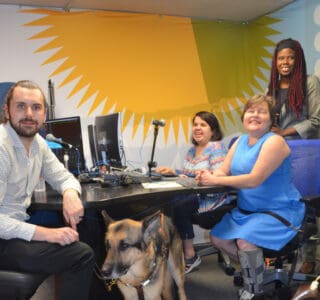 Bringing Advocacy to the Airwaves
When Illinois Gov. J.B. Pritzker signed an executive order barring companies who do business with the State from paying people with disabilities sub-minimum wages, Sandy Murillo's journalism instincts kicked in. The story was perfect for "The Disability Minute," a new segment for WBBM Newsradio that Sandy is producing at The Chicago Lighthouse.
Two days later, Governor Pritzker was on the phone with Sandy, explaining the importance of equal pay for equal work. "People with disabilities deserve equal treatment with others who are working," the Governor said in his only one-on-one interview about the topic.
Since August, Sandy, Maureen Reid, Ben Chargot and Kalari Girtley-Jackson (all of whom are Chicago Lighthouse employees and are blind) have been researching, writing, and hosting "The Disability Minute." Produced in The Chicago Lighthouse's fully accessible studio, the weekly segment provides an invaluable service for the Chicago community.
"We loved the idea this would be produced by people with disabilities to showcase what they can accomplish," says WBBM Brand Manager and News Director Ron Gleason, who has been instrumental in getting the segment on air.
"As Chicago's leading information service, this is a great way to inform everyone about the issues of importance to the disability community." Gleason says.
"The Disability Minute" airs Sundays on WBBM 780 AM and 105.9 FM at 1:51, 6:21 a.m. and at 3:51 p.m. Archived segments are available at ChicagoLighthouse.org/disability-minute.
Back to top