Reflecting Our Community's Priorities: "The Disability Minute"
By Sandy Murillo | Associate Producer, Chicago Lighthouse Media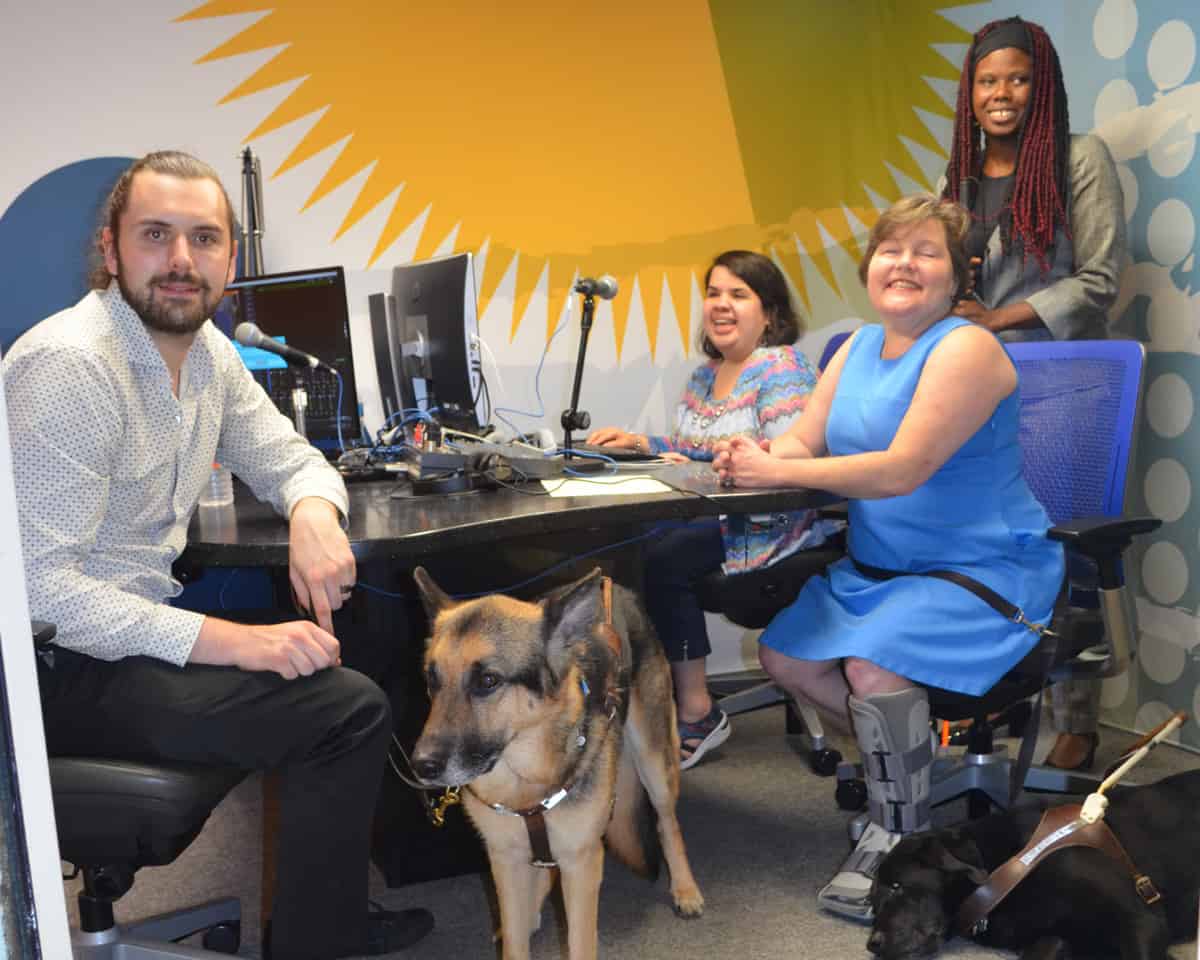 "The Disability Minute" production team: (l. to r.) Ben Chargot, Sandy Murillo, Kalari Girtley-Jackson and Maureen Reid are pictured in the Chicago Lighthouse Media studio, along with Ben's guide dog, Sammie, and Maureen's guide dog, Gaston.
I have always been interested in the media representation, or lack thereof, of people with disabilities. That is one of the reasons I became a radio producer at The Chicago Lighthouse. More than 61 million Americans (25% of the total population) identify as having a disability, but too often our stories are portrayed as either tragic or tearjerkingly inspirational. I want them to be accurate and informative.
Since 1906, The Lighthouse has advocated for inclusion and accessibility for all. This year, we added a huge megaphone to those efforts thanks to a partnership with WBBM Newsradio, the top-rated news station in Chicago. "The Disability Minute," produced in The Chicago Lighthouse's fully-accessible studio by people who are blind, fills a void that has been severely lacking in our media landscape.
Our segments have covered everything from the inclusion of people with sensory processing disorders to accessibility services at Chicago's many music festivals. When Gov. J.B. Pritzker issued an executive order barring the State of Illinois from doing business with companies that pay people with disabilities less than the minimum wage, we were the only media outlet granted an interview to explain why the order was both good policy and good business.
I, along with my colleagues Ben, Kalari, and Maureen, do not take this opportunity for granted. Our work researching, writing, and producing these weekly segments not only demonstrates that we are competent and capable, it provides a vital service for our community. By highlighting the information and resources available for people with disabilities, we are fulfilling a need for a population that is all too often overlooked, and we are making our presence known.
Journalism is the practice of telling stories in service of creating social change. It is a chance to illuminate different perspectives. Thanks to "The Disability Minute," We have been exposed to thought-provoking points of view that we would not have otherwise encountered. We are learning new digital media production and storytelling techniques, and we are telling stories that will lead to greater understanding and empathy for all people with disabilities. We cannot think of a better way to serve our community.
Back to top