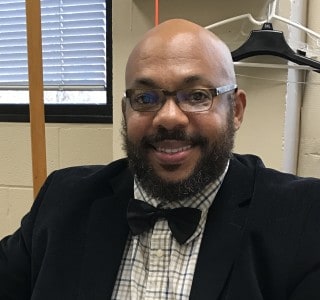 Meet Ira Young, Changing Lives One Client at a Time
If you ask Ira Young what he loves about The Chicago Lighthouse, he'll tell you in a heartbeat.
"The clients!"
Working with the motto of "client centered service," Ira is a Qualified Individual Disability Instructor, one of several passionate employees of our Adult Living Skills Program or ALS.  Born and raised in Chicago, he learned about The Chicago Lighthouse through a social service resource and joined the agency in 2005.  Over the past nine years, Ira has worked with hundreds of ALS clients, whose disabilities range from blindness and low vision to functioning issues.
"You need passion and patience," Ira said.  "This program builds courage, self-esteem, mobility and everyday living skills to people who otherwise may never have had the opportunity.  It is absolutely amazing."
Among his many talents and contributions to the program, Ira assists with staffing, goals, quarterly reports and client evaluation.  He credits his success with a passion for helping others and applies everything he learns at The Lighthouse towards his own personal growth.
When asked what his favorite aspect of the agency is, Ira couldn't pick just one.
"It's the teamwork, the staff, and most importantly, the clients!"  He said enthusiastically.
Adult Living Skills (ALS) focuses on life skills training for adults who are blind or visually impaired with developmental disabilities. Program participants attend daily activities designed to develop self-sufficiency, increase independence and help them actively participate in today's society. An individual service plan is developed for each participant to outline short-term and long-term goals.
To learn more, visit http://chicagolighthouse.org/program/adult-living-skills-program/
Back to top